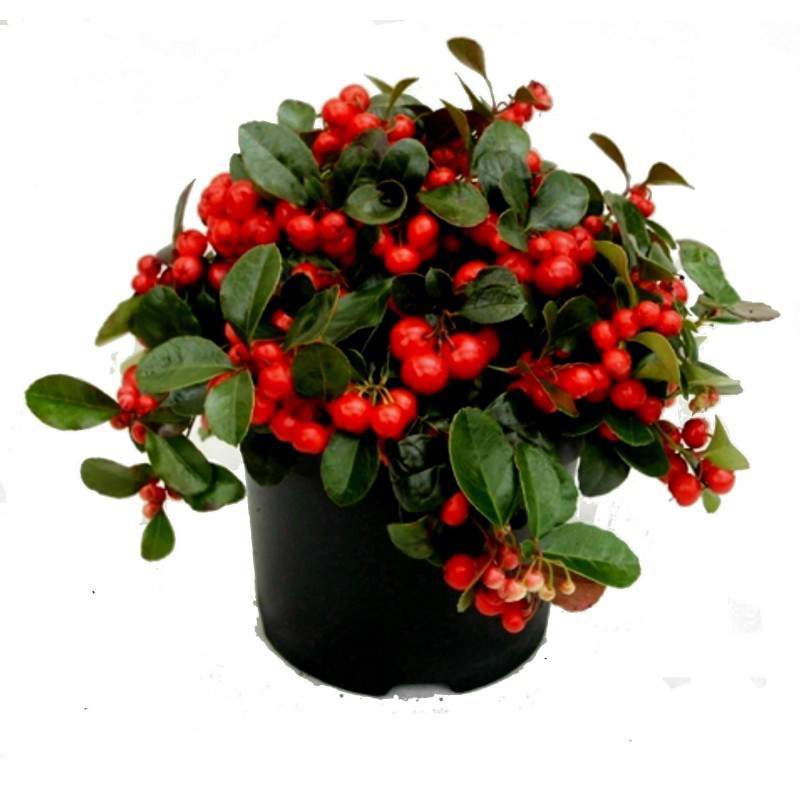  
GAULTHERIA PROCUMBENS
Reference: BL-31100779C

PACKAGING AND SHIPPING COSTS
Tea from Canada (Gaultheria procumbens) is the most colorful and original solution for your balcony even in autumn and winter. It is a perennial ground cover shrub that does not exceed 25-30 cm in height.
Available in pots 11, 13 and 19 cm
Gaultheria of the Ericaceae-Ericaceae family is the gorgeous ground cover plant, it is evergreen and a true mood creator, and is characterized by its graceful red berries. For this reason, it ensures color and atmosphere in the winter!
It is good to know that the Gaultheria is pleasant all year round and can also be temporarily placed in the living room for up to 6-8 weeks, provided it receives sufficient humidity and light. It grows faster in airy, peaty soil.
Gaultheria is also very popular in gardens, it can expand in any direction.
Its gorgeous and fleshy berries are edible and reminiscent of the aroma of mint, while with the leaves it is possible to prepare a herbal tea!
CARE
The Gaultheria does not need special care, but to obtain excellent results the plant must have the right type of soil and the right exposure. For fertilization it is good to carry out organic fertilization towards the end of winter or to make fertilizer in low doses. You just have to find them a point in the twilight. In times of drought, water with more water.
Withstands temperatures of -29 ° C
12 other products in the same category:
hydrangea is an ornamental plant that is grown in many varieties. Hydrangea is part of the Hydrangeaceae family, Hydrangea genus. A plain with a romantic look, in bright colors, capable of giving new life to a garden or terrace. A plant that is also appreciated in apartments.
Growed in 19 cm pot.
Perennial shrub, with coniferous and evergreen, with slow and very long-lived growth. It belongs to the Cupressaceae family.
Out of stock
Limelight paniculate hydrangea is a particular ornamental plant appreciated for its attractive flower.
It forms large panicle flowers, which look like hyacinth flowers.
Grown in a 22cm flowerpot.
Out of stock
Euryops Chrysanthemoides is a perennial herbaceous plant, up to 2 meters high! From the bright yellow flowers also called the Daisy of Paris or true-eyes daisy.
Campanulacea Dalmata Portenschlagiana, perennial Campanula, resistant and generous ground cover plant as blooms. Available in white and blue / fuchsia colors.
Calluna vulgaris Beauty ladies trios
A mix of different varieties, heart-shaped leaves, robust, easy to care for and very trendy. Peperomia is one of the most popular indoor plants!
Originally from Syria, the Ihibiscus syriacus is a plant that stands out for its erect bearing that shows off a dense intense green color and beautiful and numerous flowers, with the most disparate and lively shades, ranging from white to purple.
Calocefalo Brownii or Leucophyta Brownii Australian perennial plant with a characteristic silver color. Flowerpot 10cm
Out of stock
Shrubby herbaceous plant, deciduous leaves and white flowers.