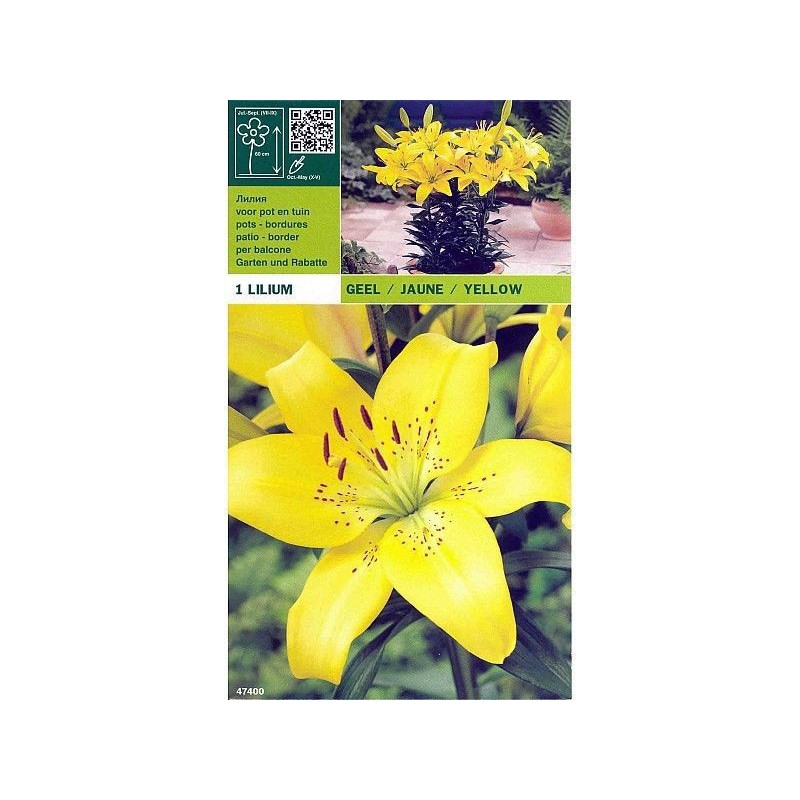  
Lillium asiatic yellow 1 bulb
Referens: 8711483004745

VERPAKKING EN VERZENDKOSTEN
lilium asiatic yellow (confezione da 1 bulbo)
luminosa varietà del gruppo dei gigli asiatici, caratterizzati da fiori grandi, eretti su un fusto robusto e rigido, alto 60 cm si coltiva bene in terra soffice e ben concimata con sostanza organica, sempre fresca in estate, meglio asciutta in inverno quando il cormo (il bulbo) è in riposo. preferisce il sole o la mezz' ombra molto luminosa e la compagnia di fiori estivi blu, rossi e arancioni per un effetto pieno di energia. eccellente scelta anche per i vasi e per fiori da taglio. fioritura giugno-luglio.
8 andra produkter i samma kategori:
Hyacinth orientalis in a nursery pot ready to bloom w perfume rooms and terraces. Choose your favorite pastel colors from blue, white, yellow, pink and red!
Bulk av vit eller röd vitlök, skickas i lösvikt
Easy to grow crocus bulbs both in open ground and in pots! The flowering, which takes place in spring, will lead to surprising results: crocus flowers are able to immediately capture the attention due to their beautiful colors, which from white pass through the shades of pink and purple, up to yellow and flowers with enchanting streaks.
Lättodlade krokuslökar både i marken och i krukor! Blomningen, som sker på våren, kommer att leda till överraskande resultat: krokusblommorna kan omedelbart fånga uppmärksamheten på grund av sina vackra färger, som går från vitt genom nyanser av rosa och lila, upp till det gula och vackert strimmiga.
Förpackning med 15 glödlampor