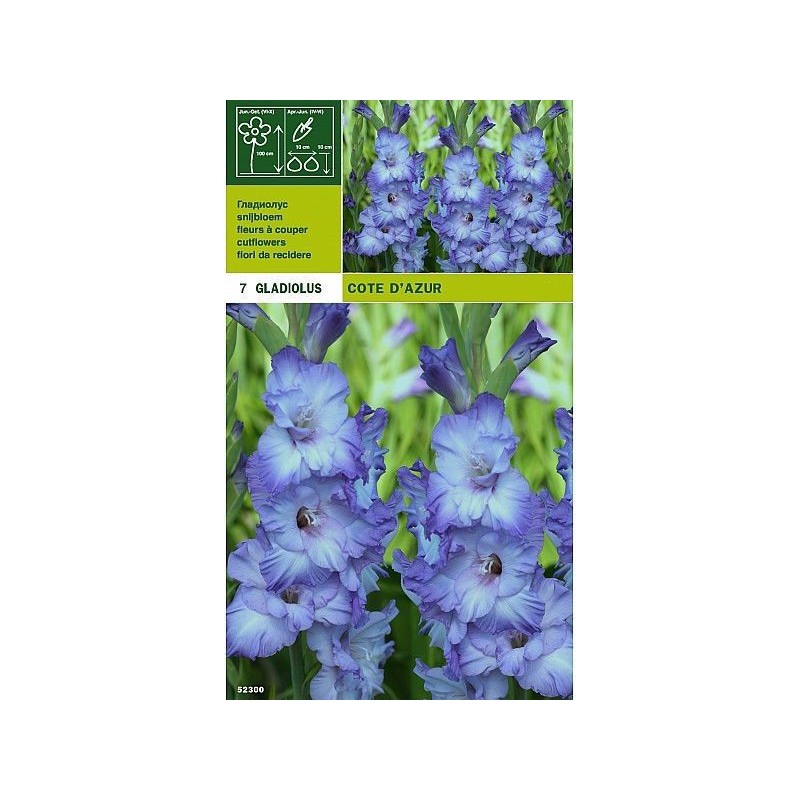  
gladioli cote d'azur 7 bulbs
Referens: 8711483055235

VERPAKKING EN VERZENDKOSTEN
bulbi gladioli cote d'azur (confezione da 7 bulbi)
gladiolus cote d'azur, ibrido alto 100 cm a fiori bianchi screziati di violetto ai margini, può essere coltivato in giardino, al sole, in compagnia di erbacee perenni e fiori annuali viola, rosa o bianchi, interrando gruppi di 7-9 cormi (i bulbi) distanziati di 15 cm l'uno dall'altro. nell'orto può invece essere coltivato per i fiori di taglio, con l'accortezza di mettere a dimora i bulbi scalarmente da aprile a fine giugno, ogni due settimane, a gruppi di 10-15, sempre a 10 cm di profondità e altrettanti di distanza tra loro. i cormi vanno estirpati in autunno, quando le foglie sono seccate, e riposti in sabbia o torba asciutta sino all' anno seguente. i gladioli crescono bene e facilmente in terra fertile e molto ben drenata, con l' aiuto eventuale di una concimazione liquida ogni due settimane da quando comincia a formarsi lo stelo dei fiori sino a quando le foglie sono ingiallite. in piena estate annaffiare a fondo 2-3 volte alla settimana.
7 andra produkter i samma kategori:
gladiolus mon amour (confezione da 7 bulbi)
Bulk av vit eller röd vitlök, skickas i lösvikt
Hyacinth orientalis in a nursery pot ready to bloom w perfume rooms and terraces. Choose your favorite pastel colors from blue, white, yellow, pink and red!