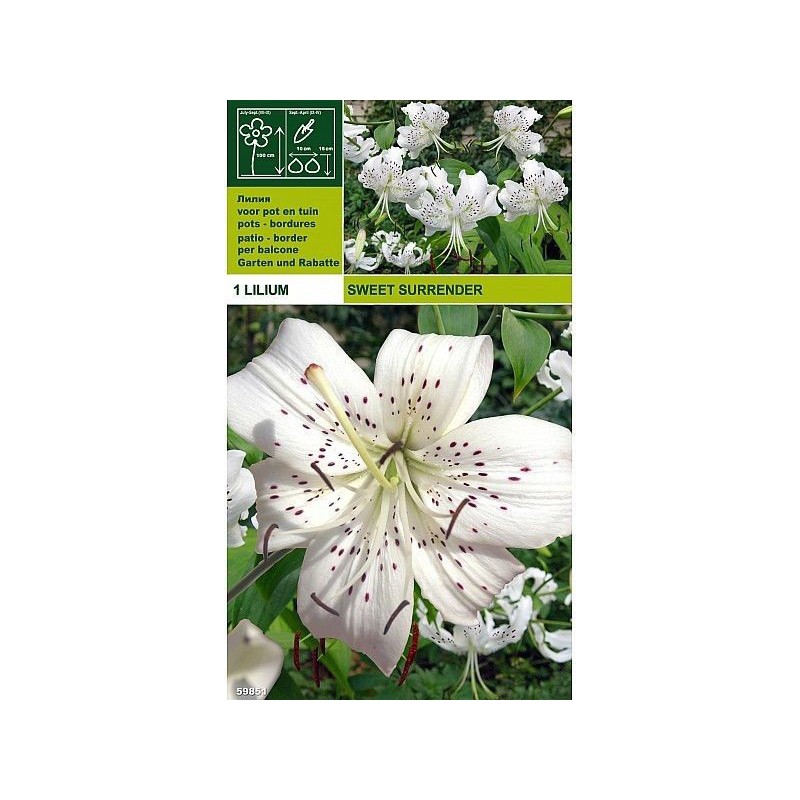  
Lillium tigrinum sweet surrener 1 bulb
Referens: 8711483110705

PACKAGING AND SHIPPING COSTS
lilium tigrinum sweet surrender (confezione da 1 bulbo)
lilium tigrinum sweet surrender, il giglio è uno dei più bei fiori estivi ed è originario dell'asia.brbri gigli si acclimatano facilmente, lasciali nel terreno e fioriranno ogni anno rigogliosi.brbril periodo di fioritura è da luglio a settembre. crescono in altezza di circa 60 cm brbrsemina puoi piantare i gigli in primavera o in tardo autunno.
12 andra produkter i samma kategori:
gladiolus mon amour (confezione da 7 bulbi)
Also known as Amaryllis or as Hippeastrum, Amarillo is a very popular houseplant due to the majesty of its flowers and its prolonged blooms: each stem bears three or more flowers, which will bloom in succession, extending the beauty of this plant. It contains 1 bulb.
Bulk av vit eller röd vitlök, skickas i lösvikt
The scent of these blooming hyacinths is a symbol for any plant lover. Contains 5 bulbs.
gladiolus mon amour (confezione da 7 bulbi)
Make your flower beds and garden look stunning with this bulb mix that will give you gorgeous spring blooms.
Combined together in the shades of yellow, as well as cream white, orange and in all the combinations of these colors, they are spring flowers that bloom from April, bringing joy to the garden with their crown made up of multiple petals. They are multi-year bulbs, so they also give their beauty the following year. It contains 15 bulbs.
Hyacinth orientalis i en plantskola redo att blomma med parfymrum och terrasser. Välj dina favoritpastellfärger från blått, vitt, gult, rosa och rött!
Easy to grow crocus bulbs both in open ground and in pots! The flowering, which takes place in spring, will lead to surprising results: crocus flowers are able to immediately capture the attention due to their beautiful colors, which from white pass through the shades of pink and purple, up to yellow and flowers with enchanting streaks.
Tulip bulbs of the Sunbath variety, with a spring flowering that leads to the birth of magnificent orange flowers, combined with others of a delicate cream color. These tulips are ideal for catching attention in the garden, but also on the balcony! It contains 15 bulbs.