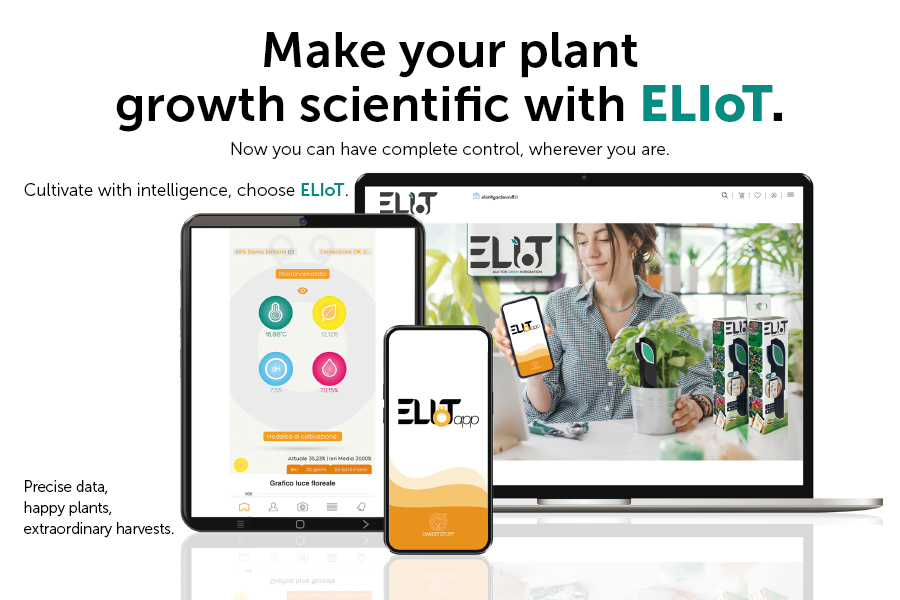 ELIoT: The Essential Application for the Care of Your Plants
We announce the launch of our new website, https://www.iameliot.it/, also available in English! Here, we want to share all the latest news regarding the updates of our multisensor, which represents an important step forward in the care of your plants.
Our latest changes include increased surveillance, as we have gone from 8 to 12 monitoring parameters, meaning more complete and accurate tracking to optimize the growth of your plants.
Our multisensor can be invaluable to a wide range of users, including:
Gardeners:Get crucial information to keep your gardens in tip-top health.
Locksmiths:Check the environmental conditions of greenhouses to ensure an ideal environment for your plants.
Interior Designer:Create breathtaking green spaces, including vertical gardens, with your interior design expertise.
Vegetable Garden Growers:Maximize your vegetable garden's yield by carefully monitoring soil and environmental conditions.
Medicinal Plant Growers:Ensure optimal conditions for the growth of high-quality medicinal plants.
Home Plant Enthusiasts:Whether you have a small nursery or a large collection of houseplants, the multisensor will help you keep them looking their best.
Golf Course Managers:Keep golf course greens in optimal condition with constant monitoring.
Green hobbyists:Even if you're not an expert, our multi-sensor makes plant care easy for everyone.
By exploring the pages of our site, you will discover all the features offered by our app, along with detailed graphs and data that will help you take care of your plants more effectively.
Finally, we cannot help but emphasize how much our customers appreciate our product.
Request our complete catalogue. With ELLoT, caring for your plants will become a simpler and more effective experience.
To make the user experience even more complete, the ELIoT app is available for download on Gooogthe PLtoy and on'App Store, offering an intuitive and user-friendly platform. Furthermore, the app is available in Italian, French, German, Spanish and Portuguese, ensuring easy communication in multiple languages.
You chooseELIoT, the product that combines technological innovation with love for greenery. Make the management of your plants smarter and more precise, enjoying the numerous advantages offered by this cutting-edge solution. Take care of your plants with ELIoT and experience digital horticulture at the next level!