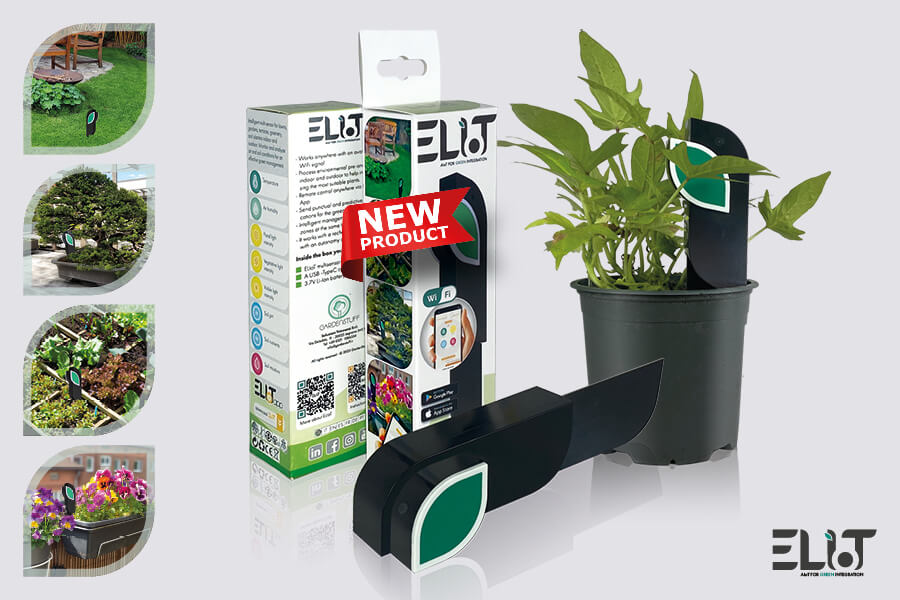 ELIoT: Revolutionize Green Management with IoT Technology! Now available
We are happy to announce that ELIoT is finally available for theinstant online purchase! With its cutting-edge Internet of Things technology and the evolution of Artificial Intelligence, ELIoT is ready to revolutionize the intelligent management of green spaces, both internal and external.
Imagine being able to monitor and improve your plants with the simple use of this superior technological solution. In view of upcoming holidays, there is no better time to put ELIoT to the test. This innovative device will be your faithful companion, keeping you constantly informed throughout the holiday period.
Thanks to her scientific precision, you will be able to have a detailed view of each change, supported by accurate graphics And custom notifications. ELIoT is the result of three and a half years of Italian research and development, and has been designed to be accessible to all, while ensuring a futuristic touch.
ELIoT will grow with you, learning from the environments that surround it to provide you with increasingly precise information. It will be a valid ally in choosing the most suitable plants for next season as well.
This revolutionary product, designed for intelligent plant integration, uses the Internet of Things and artificial intelligence, will evolve with you by helping you for your green spaces, evaluating your preferences for decorative plants and vegetable plants with a scientific approach. Thanks to a careful development process and in-depth research, ELIoT has become a state-of-the-art solution, accessible to all plant enthusiasts and to professionals who manage green spaces on behalf of third parties.
ELIoT offers you a wide range of features. You can use it wherever there is a WiFi signal available to guarantee complete control over the environmental conditions, both internal and external, to choose the plants that best suit your situation. Thanks to the dedicated app, you can manage everything remotely, receiving punctual notifications and accurate forecasts to take care of your plants in the best way.
Not only will you be able to easily manage a single zone, but you will be able to monitor and control several areas at the same time, thanks to intelligent multi-management. And if you are concerned about autonomy, let me reassure you: ELIoT is equipped with a rechargeable battery that offers an autonomy of up to 5 months.
The product contents include the ELIoT multisensor, a USB Type-C cable and a 3.7V LI-Ion battery. With a weight of only 150 grams and compact dimensions of 5.5 x 4.5 x 19 cm, you can easily place it wherever you want.
ELIoT also offers you other interesting features, such as constant monitoring of values updated every 2 hours, simultaneous management of multiple multi-sensors and the ability to add and consult an infinite number of zones with detailed reports. You will have access to a chronological archive of personalized notifications, always at your disposal, and you will be able to view detailed graphs up to 12 months, broken down by specific data, zones and multisensors.
To make the user experience even more complete, the ELIoT app is available for download at googthe PLtoy and onApp Store, offering an intuitive and user-friendly platform. Also, the app is available in Italian, French, German, Spanish and Portuguese, ensuring smooth communication in several languages.
Choose ELIoT, the product that combines technological innovation with love for greenery. Make the management of your plants smarter and more precise, enjoying the many advantages offered by this cutting-edge solution. Take care of your plants with ELIoT and experience digital horticulture on the next level!