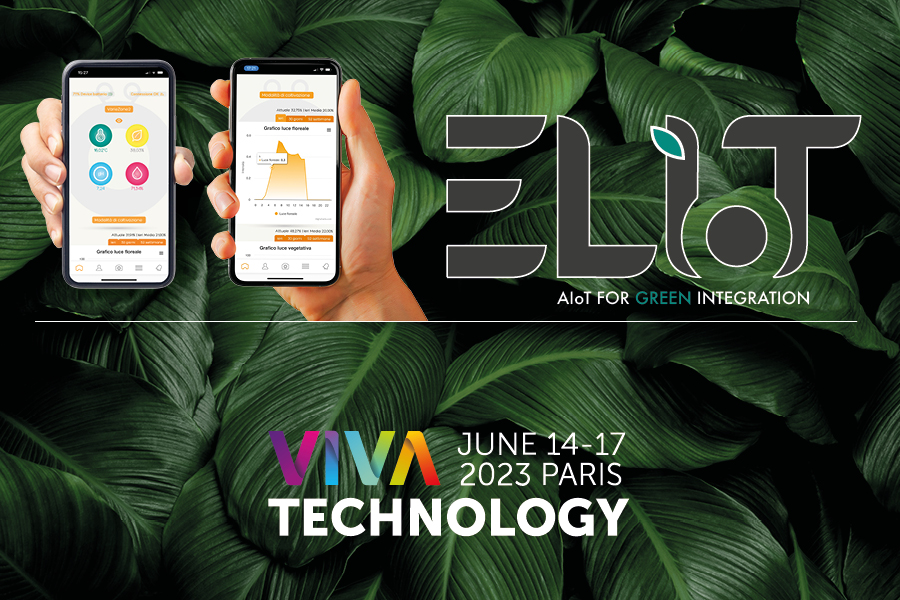 ELIoT THE GREEN-TECH AIoT MULTISENSOR IN PARIS
Summer is coming and the plants are in their most splendid phase, the kids have now finished school, and therefore we are starting to think about the holidays too! ⛱️
Our Research and Development department has never stopped and we have worked constantly on ELIoT, the AIoT multisensor: the only product ever designed capable of analyzing the environment, monitoring plant cultivation and having full control of your garden , terrace or mini vegetable garden wherever you are.
And the good news is that starting this summer we will be able to offer our most loyal customers the first incredible multisensors: through the app and the constant monitoring of 8 different data you will have full control of your green space, you will no longer have to worry even on vacation!
Indeed, in a few days ELIoT will make its debut in Paris at the European technology fair of excellence: Viva Technology from 14 to 17 June 2023.
We will be there with ELIoT, the Made in Italy product that excels for its incredible technological features in the green field, a genuine idea, covered by an Industrial Invention Patent, the result of the ingenuity and commitment of experts, scientists and specialists, a source of pride of the constancy and perseverance of a totally Italian company!
If you too want to be part of the first Early Adopters, contact us immediately, the pieces are extremely limited, the functioning guarantee is assured.
And the price for the first of you will be unmissable!
Help us grow the knowledge of ELIoT with your plants, your green spaces, your green ideas and everyone will benefit from this knowledge through ELIoT!
Find out more about ELIoT here.
Find out more about our presence at Viva Technology here! And if your early summer holidays are in Paris, don't miss to visit us at our booth: Booth C11-017, there will be a surprise reserved just for you!
We hope many of you will come!