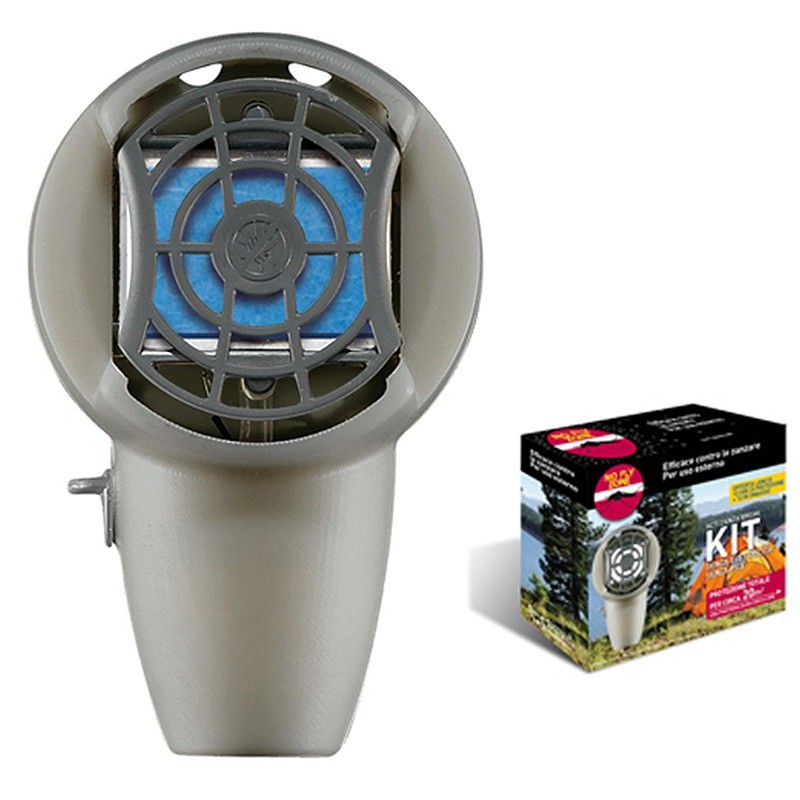  
Acti zanza break portatile
Reference: 8032894980108

PACKAGING AND SHIPPING COSTS
acti zanza break portatile antizanzare no fly zone
caratteristiche: evaporatore di piastrine insetto-repellente senza fili e senza batterie per uso esterno. grazie alla speciale piastrina acti zanza break a base di esbiotrina, insetticida piretroide a bassa tossicit ed elevata efficacia, protegge unarea di 20mq dalle zanzare e altri insetti fastidiosi. protezione efficace sia da fermi che in movimento. non necessita di pericolose candele per il funzionamento. il kit dotato di un comodo piezoelettrico per laccensione.

modalit e dosi di impiego: rimuovere la piastrina dal suo incarto e posizionarla sotto lapposita griglia. avvitare la cartuccia di butano nellapposito vano, il gas comincer a fluire, azionare il piezzoelettrico 4-5 volte in rapida successione e verificare la corretta accensione (filamento incandescente) dallo spioncino posto in testa allapparecchio. posizionare nellarea che si vuole proteggere. quando non si utilizza svitare la cartuccia di butano di almeno un giro per spegnerlo. la confezione contiene 12 ore di protezione.

periodo di impiego: accendere kit 10-15 minuti prima di usufruire dellarea che si intende proteggere o prima di intraprendere lattivit allaria aperta. durata piastrina fino a 4 ore. durata cartuccia di butano circa 12 ore.

composizione: 100g di prodotto contengono esbiotrina pura: 6,5 g, solvente, colore e supporto cellulosico: q.b. a 100g

insetti target: tutte le zanzare presenti in italia e altri piccoli insetti molesti
12 other products in the same category:
Thermacell Activa, against mosquitoes, 20 m2 of outdoor protection!
Recharge 48 hours of total protection.
bayer solfac spray mosche e zanzare 500 ml
100% vegetable oil obtained by the seeds of the Neem tree, which is a natural insect repellent.
Pack of 240ml
acti anti zanzare portatile
Ideal product against insects of the soil and subsoil. It creates a natural olfactory barrier unwelcome to insects
Kalif disabituante is a specific product for pigeons and birds. It creates an olfactory barrier that takes them away from windowsills, cornices and attics.


zapi granular disabituante for moles 1lt
formych microgranular bait jar 0.2 kg compo
Organic fertilizer with a high repellent action against soil insects