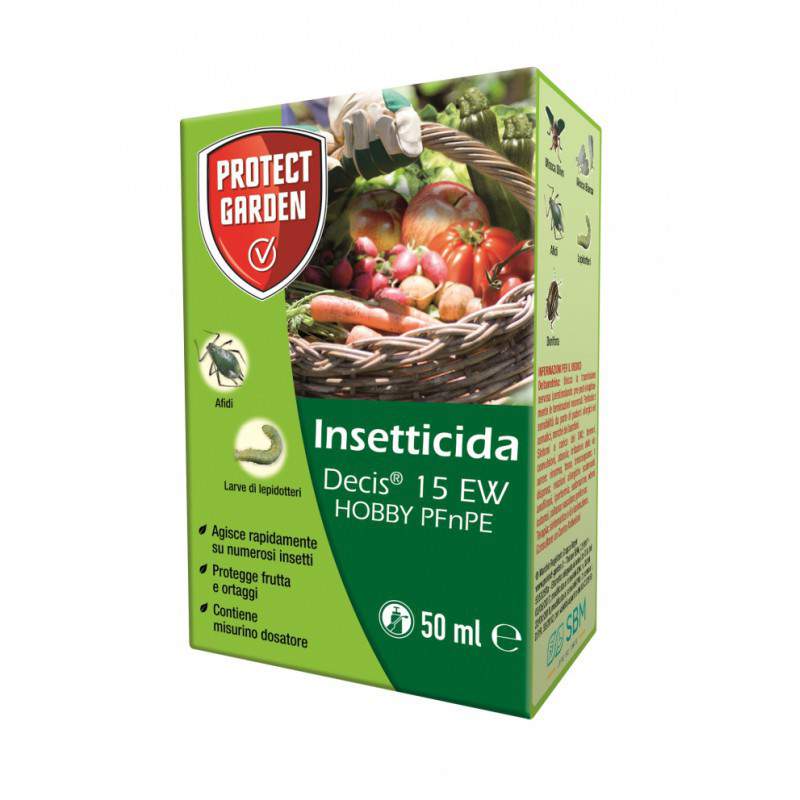  
Insecticide Protect Garden decis 15EW 50ml
Reference: 3664715024071

PACKAGING AND SHIPPING COSTS
Rapid insecticide against aphids, Lepidoptera larvae, olive fly, whitefly, Colorado beetle and more 50ml
Pyrethroid insecticide HOBBY PFnPE based on deltamethrin which combines the excellent knockdown effect and rapid action on various insects with a short interval of deficiency.
In fact, it is active on numerous insects such as aphids, whitefly, Colorado beetles, thrips, night birds, cabbage, pyralids, bedbugs and many others.
The special formulation with vegetable oil improves efficacy, increases the duration of action of the active principle and guarantees greater respect for the environment.
Decis 15 EW protects more than 40 between horticultural, fruit, vine, olive and citrus crops, floral and ornamental plants. the package has a measuring cup and a child-saving cap (50ml)
It is the evolution of the Bayer decis jet product
12 other products in the same category:
insecticide deltakill flow
Zapi insecticide Anti-mosquito barrier
total herbistop garden 500 ml
Bayer Success garden insecticides
Organic product that provides an indirect action against sooty molds
compo - anti-cochineal rtu oleosan plus 750ml
Zapi Pyganic natural pyrethrum
Compo Systemic Insecticide protects Citrus and fruit, vegetables and ornamental 20 ml
zapi acidofile liquid fertilizer 1 lt
zapi overcid insecticide spray 150ml.
compo insecticide fazilo duaxo ppo 750ml.