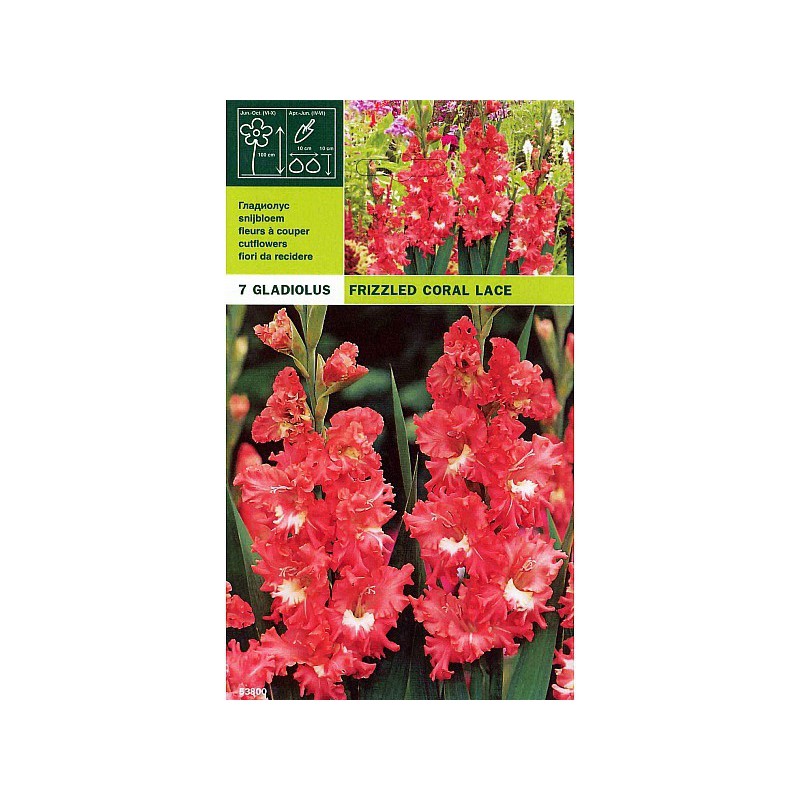  
Gladioli pack of 7 bulbs
Reference: 8711483055389

PACKAGING AND SHIPPING COSTS
gladiolus frizzled coral lace (confezione da 7 bulbi)
ladiolus frizzled coral lace, ibrido alto 100 cm a fiori in un brillante rosa corallo a petali arricciati, può essere coltivato in giardino, al sole, in compagnia di erbacee perenni e fiori annuali viola, blu o bianchi, interrando gruppi di 7-9 cormi (i bulbi) distanziati di 15 cm l`uno dall`altro. da provare l`effetto shock in mezzo a macchie di graminacee. nell`orto può invece essere coltivato per i fiori di taglio, con l`accortezza di mettere a dimora i bulbi scalarmente da aprile a fine giugno, ogni due settimane, a gruppi di 10-15, sempre a 10 cm di profondità e altrettanti di distanza tra loro. i cormi vanno estirpati in autunno, quando le foglie sono seccate, e riposti in sabbia o torba asciutta sino all` anno seguente. i gladioli crescono bene e facilmente in terra fertile e molto ben drenata, con l` aiuto eventuale di una concimazione liquida ogni due settimane da quando comincia a formarsi lo stelo dei fiori sino a quando le foglie sono ingiallite. in piena estate annaffiare a fondo 2-3 volte alla settimana. descrizione prodotto: 7 bulbi calibro 12/14, colore: salmone, per aiuole, giardino, vasi, mese piantagione: 4-5-6, mese fioritura: 6-7-8-9-10, altezza 100 cm, recidere: si.
10 other products in the same category:
gladiolus mon amour (confezione da 7 bulbi)
Narcissus bulbs are easy to grow and in spring they give us a beautiful flower, elegant, refined and very fragrant. Contains 5 bulbs
Bulb of White or Red Garlic, shipped in bulk
Also known as the lily of the Madonna or the lily of St. Anthony, Lilium candidum produces large white and very fragrant trumpet flowers that bloom from June to September. It is ideal for planting in gardens as an ornamental and it adapts easily to any type of soil! It contains 1 bulb.
Hyacinth orientalis in a nursery pot ready to bloom w perfume rooms and terraces. Choose your favorite pastel colors from blue, white, yellow, pink and red!