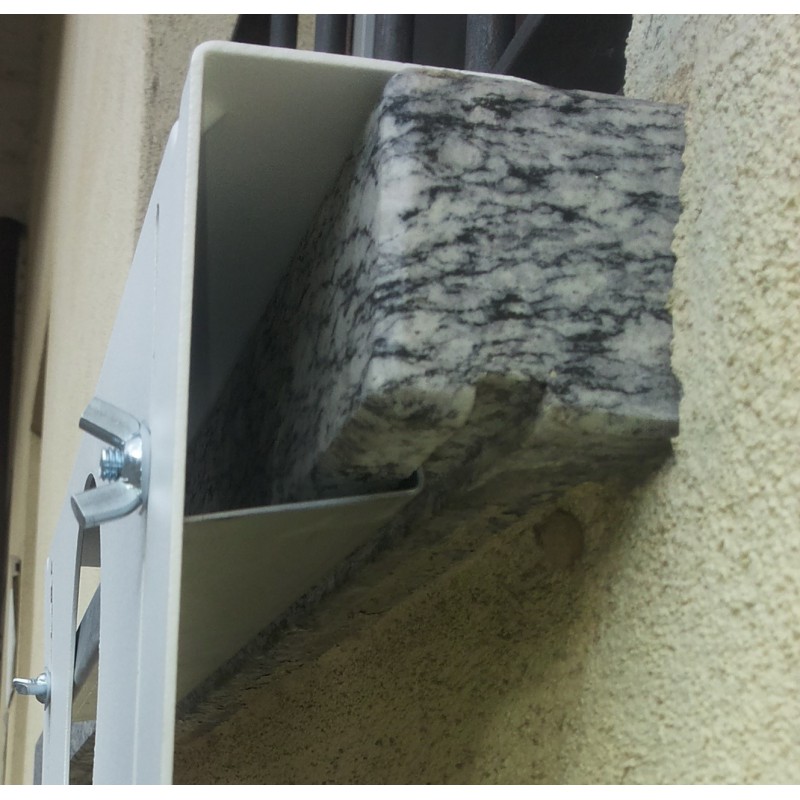  
Windowsill pot holder with adjustable hook system 40 cm
Reference: silvc40an

PACKAGING AND SHIPPING COSTS
Silvano the windowsill pot holder 40 cm version with adjustable hook system. Colour anthracite.
The pot holder makes your windowsill blossom!
This new version with adjustable hook system, with the same quality and features of the standard version, allows the use in total safety even on inclined windowsill!
Silvano line is the only one that allows a fast and safe hooking on windowsill and walls without the necessity to do any holes thanks to its exclusive clasp system covered with patent.
Its use gives multiple advantages that makes Silvano irreplaceable :
-Fast installation (less than a minute) and fast movement without using any tools
-maximum exploit even with windowsill with just 2.5 cm of support
- Possibility of tiling in perfect planarity with one another
-maximum fixing safety with a capacity to hold up to 80 kg
-the hook system is studied to allow the opening of any kind of shutter without creating any obstruction.
-the version with inclinable hook is perfect for inclined sills, the basket fits and remains also in this case perfectly horizontal.
-high quality material and anti-corrosion system, carbon steel protected with phosphating and epoxy paint polymerized at 180°C, hook and sliding parts protected with hot dip galvanizing.
The version with inclinable hook gives also more space to the plants in the presence of shutters or blinds: from the pot to the window there are up to 15 cm
Remember: its installation requires just the presence of the drip, it doesnt need any holes or modification to the windowsill.
Also Silvano can be used on walls or parapets of any measurements: its versatility also allows the installation on terrace and balconies with marble of non standard dimension starting from a minimum of 2.5 cm to infinite.
The pot holder Silvano can be aligned and it can be easily removed, always maintaining the safety of its tested clasp system.
Version of 40 cm, anthracite colour.
Silvano is available in the measurement of 40, 50, 60 cm
Silvano is a product 100% Made in Italy.
Data sheet
Height

Basket 13 cm (5.12 inches)

Material

Steel

Paint

Polymerized at 180°

Width

Basket 42 cm circa (16.5 inches)

Accessories

Patent clasp system included

Depth

33 cm
Specific References
EAN13

8032841312235
2 other products in the same category:
Silvano the windowsill pot holder 60 cm version with adjustable hook system. Colour anthracite.
Silvano version 2020, no-drill window box holder, the only one patented windowbox planter holder easy and safe to place outside the windowsill. It is adjustable in two different heights, low if used for windows openings towards the outside, flat for those who can have plants at windowsill height.
Does not obstruct the opening of blackout blinds or windows.
Color: White and Anthracite