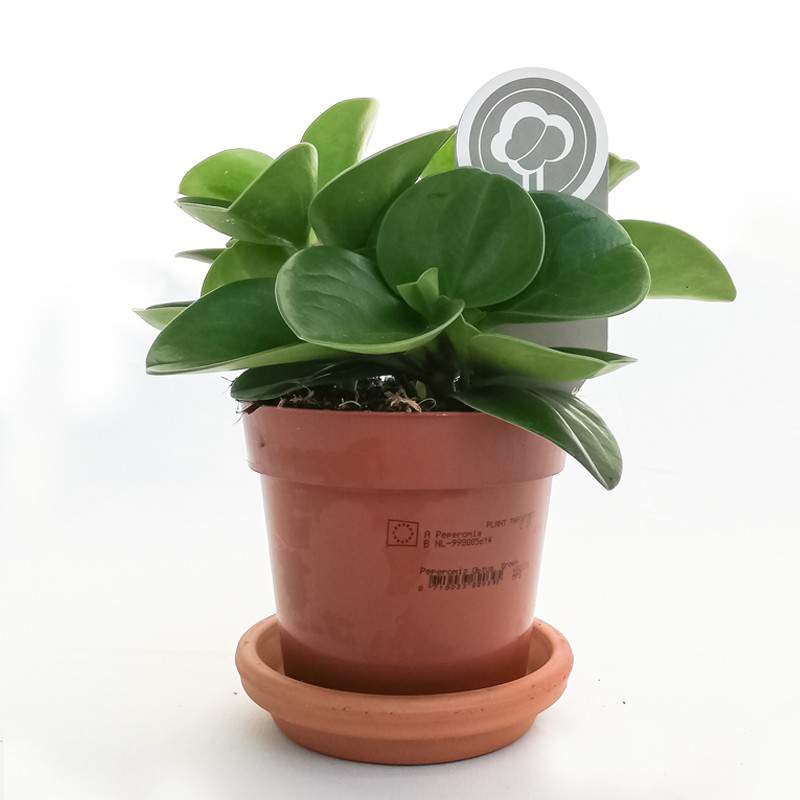  
Peperomia
Reference: BL-12101665C
A mix of different varieties, heart-shaped leaves, robust, easy to care for and very trendy. Peperomia is one of the most popular indoor plants!
Needs little attention and it is easy to care for, qhis houseplant prefers a bright spot, but not exposed to full sun, water regularly the soil should not dry out.
Peperomia is a small plant evergreen herbaceous perennial is luxuriant and compact, characteristics that make it an ideal plant for creating botanical corners at home. Its stems are thick and succulent, the fleshy and leathery leaves, large and flat heart-shaped, with variegated colors. Peperomia belongs to the Piperaceae species and the genus includes over 1000 species native to tropical and subtropical regions. very decorative and they bloom in small inflorescences that can last even a long time. Many species grow into trees and it is a well-known relative of the pepper plant.
THE VARIETIES'
There Peperomia Obtusifolia It is a low growing variety with strong and shiny fresh green leaves.
The Peperomia Santorini gray-pink has pointed leaves that are gray on the top and red on the underside
Peperomia Sgo it is very ornamental as it forms small bushes up to 25 cm large with dark green leaves with gray / silver bands starting from the center of the leaf. The petioles of the leaves are purple in color. Summer blooms with spikes with white flowers.
Peperomia Rundfolia A fast-growing variety, Peperomia rotundifolia grows to develop small, round, fresh green leaves.
CARE
Peperomia is a plant that is very suitable to be placed on the windowsills, as it requires a good degree of lighting. It is good to avoid cold air currents that could weaken it, the most suitable ground is that of the universal type or land garden mixed with sand, the important thing is that you make sure it is well drained and that the water flows a lot. It does not tolerate water stagnation, which causes the roots to rot.
The peperomia, due to the nature of its foliage which is rather succulent, does not like excessive humidity and therefore it does not need to be watered abundantly and frequently.
In summer, water it every 10 days, preferably rainwater, in winter, however, every 15-20 days and always keep it at a temperature between 15 and 24 ° C that you usually find at home.
Summer is better fertilize it at least every 30 days to maintain the intense and brilliant color of the leaves.
If you go on vacation for 3 weeks, you may not think about it until you get home.
CURIOSITY'
Peperomia is native to the forests of tropical America so it is a plant that tolerates steam and smoke well, it is therefore very suitable to be placed in the kitchen. In various areas of the Pacific the different species of peperomia are used in curative purpose to heal skin ailments, eye diseases and sunburn.
Peperomias are used in our homes as decorative plants and represent one of the basic elements for the preparation for the decoration of the window sills and planters also in combination with other species.
Data sheet
Exposure

Internal: full light

Flowering season

Summer/Autumn

Height of plants

from 10 to 20 cm

Flower color

White

Diameter of the flowerpot (cm)

12
15

Leaf color

Green
Grigio e rosa
Verde striato
related products
gesal - concime liquido piante grasse da 500 ml
live flower universal soil 20
12 other products in the same category:
Echinocactus grusonii. Commonly called also mother-in-law cushion, or, golden ball. It is a cactus that can reach a diameter of about 90cm.
Out of stock
Gerbera is a highly appreciated plant because it is easy to grow and because it produces large flowers, similar to daisies, but with larger dimensions and intense colors, capable of giving color to any anrea of your apartment or garden.
Out of stock
Billbergia is a very decorative houseplant. The flowers are very beautiful, they can be cascade or vertical with a large variety of colors: purple, blue, yellow, green or white.
Considered a living fossil as it is the only survivor of an arboreal species lived in the Mesozoic era, Ginkgo is a truly unique plant not only in the field of bonsai, but of all trees in general.
Its charming flower resembles a bird, the Sterlitzia Compo is a perfect and simple ornamental plant to grow in pot, you will love its sophisticated beauty!
A flowery winter? This season you will see beautiful flowers appear on the Schlumbergera that will brighten up your home! An easy-to-care-for houseplant that blooms at Christmas! Vase 13cm.
It is an erect, evergreen plant, of not very simple cultivation. The leaves are oval or elongated, variegated with very bright colors; its height can reach 150 cm.
Originally from Africa, dwarf jade or Crassula is a fleshy plant, with a soft shrub wood and suitable for cultivation as a bonsai. It has a thick trunk and a structure of fine branches with thick succulent green leaves, characteristics that make it resistant and therefore perfect even for those who are fascinated by the art of bonsais, but they are still beginners.
Ficus is the classic and loved indoor plant, suitable for making any area of your home elegant without requiring excessive attention.
The small leaves that adapt perfectly to the miniature structure of the trunk make Carmona a perfect plant as an indoor bonsai!
Out of stock
Anthurium is a plant with a very romantic dark red ear. This attractive plant blooms all year round.