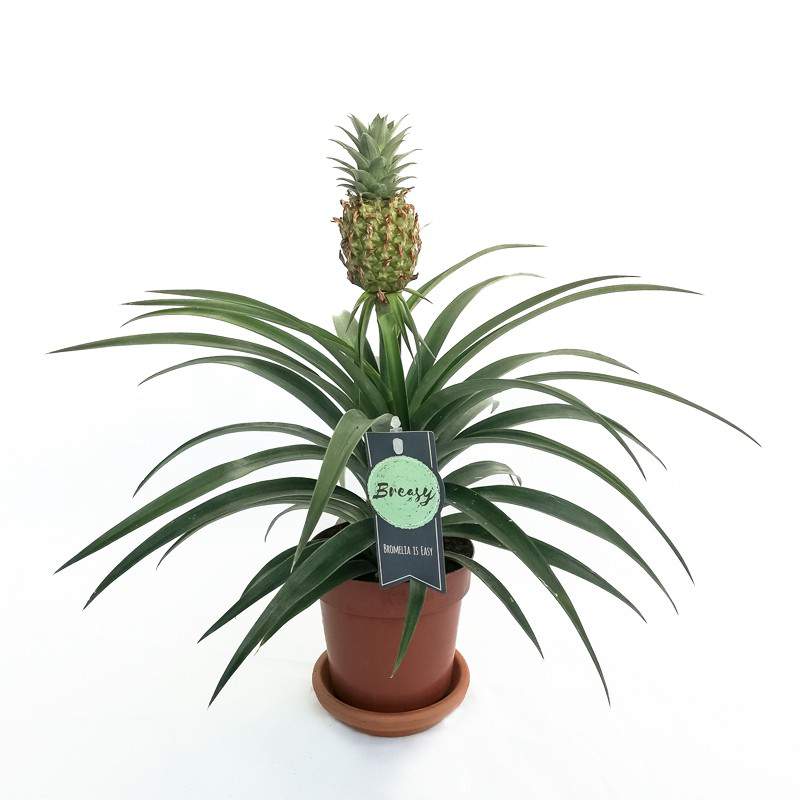  
Ananas comosus plant
Reference: BL-13001551
Tropical pineapple is an ornamental plant that produces a lot of oxygen, purifies the air and makes you happy! Vase 12cm
There Bromelia Pineapple it is an indoor plant that requires little attention and returns a lot of satisfaction, in fact it produces a lot of oxygen and its fragrance frees the respiratory tract.
It is also known as Ananasso and belongs to the family of Bromeliaceae, native to Central America and South America. The botanical species are numerous, but the best known and most widespread one that also produces the homonymous edible fruit is theAnanas comosus, originally from Colombia, with leaves of a beautiful shade of purple.
The pineapple plant it blooms only once and for a period ranging from three to six months.
It is a tropical plant need then of a high degree of humidity.
It looks like a bush usually below one meter in height, in the central part a rosette of leaves encloses the fruit we know, initially observable by the presence of a red-purple inflorescence.
Keep the always moist soil, being careful not to leave the plant in standing water. Water both the plant itself and the earth e also spray a little water on the leaves from time to time it will serve to prevent the edges of the leaves from drying out. The plant loves the light.
CARE
Upon receipt, repot it as soon as possible, using a vase with holes in the base and a saucer to collect the excess water or use a ornamental vase holder that collects the water that comes out of the inner vessel. Use del good soil and plant the root system at the right depth, then add more soil, compact it well and water copiously. Place the vase in a warm and bright place, not in full sun. Ananas comosus appreciates acidic, rich and well-drained soils but fears excess water and limestone. It needs avery bright exposure but away from direct sunlight and drafts.
Always water both the center of the plant's rosette and the soil and use rainwater if you can. The pineapple plant it must be fertilized at least four times a year with a liquid fertilizer that contains nitrogen, phosphorus, potassium, magnesium and copper. It is not necessary to administer fertilizer but remember that the ideal temperature for this Bromeliad is between 16 and 24 degrees centigrade.
CURIOSITY'
Thanks to its decorative effect, Anas is one of the most ornamental houseplants, which is why some dwarf botanical varieties have been selected which make it ideal for indoor cultivation.
Data sheet
Exposure

Internal: full light

Flowering season

Winter

Height of plants

from 20 to 50 cm

Flower color

Purple striped

Diameter of the flowerpot (cm)

12
12 other products in the same category:
Begonia rex is loved for its beautiful, showy, colorful, heart-shaped leaves, perfect houseplant!
Leafy pink, green with purple and green pattern. Vase 12cm.
Variegated chlorophyte, spider plant, is an evergreen herbaceous indoor plant, of the asparagaceae family.
Flowerpot 12 cm
height: about 12/15 cm
Zamioculcas or zamia is a plant that grows well at home, as it tolerates dry and dry air well. The large fleshy leaves and especially the base of the plant retain a lot of humidity.
Out of stock
Anthurium is a plant with a very romantic dark red ear. This attractive plant blooms all year round.
Spathiphyllum or spoon plant is a plant with small and round flowers, gathered in a cylindrical inflorescence that purifies the air, it is exceptional!
Ficus is the classic and loved indoor plant, suitable for making any area of your home elegant without requiring excessive attention.
Dracaena species known as the "log of happiness".
Monstera deliciosa or monstera obliqua, also known as the American bread plant, hole plant is very hardy. The hole plant has large leaves that amaze. Plus, it also purifies the air.
Its charming flower resembles a bird, the Sterlitzia Compo is a perfect and simple ornamental plant to grow in pot, you will love its sophisticated beauty!
Indoor plant among the most popular and appreciated, although not easy to grow, maidenhair fern is so beautiful that it is worth the care it requires to preserve it. The dense fronds on long, flexible stems of green-light green color give an effect of elegance and delicacy. Soft and flexible to the touch.
The delicate and elegant Helleborus flower blooms in the Christmas period, it deserves a privileged position for its beauty, it is perfect for adorning windows and winter gardens.