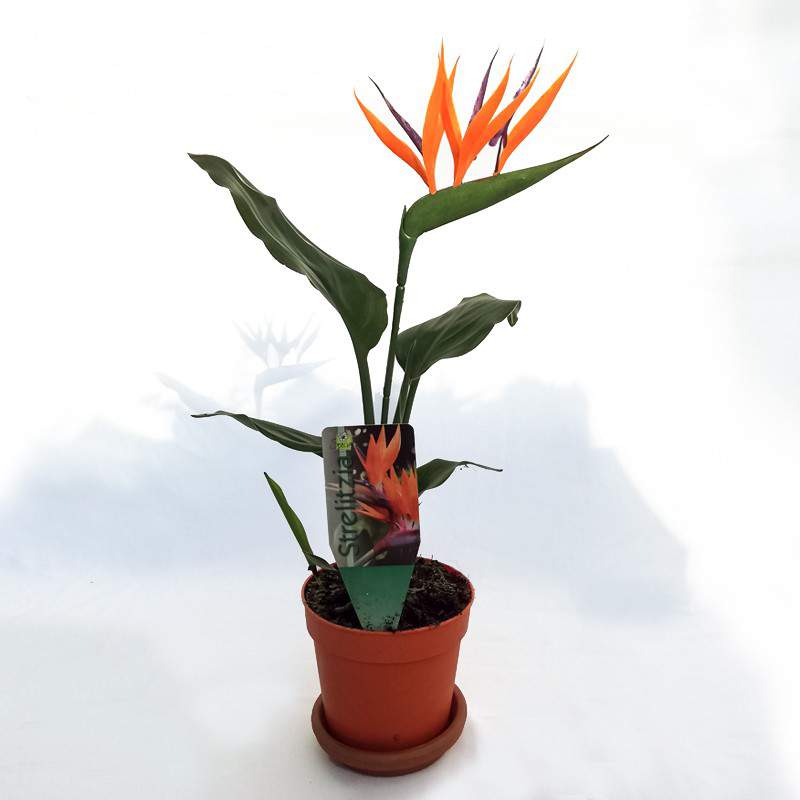  
Strelitzia the Bird of Paradise Flower
Reference: BL-12202355
Its charming flower resembles a bird, the Sterlitzia Compo is a perfect and simple ornamental plant to grow in pot, you will love its sophisticated beauty!
The bird of paradise flower loves the sun therefore place the Strelitzia near the window, it also resists drought and heat well.
There Sterlizia it is also called bird of paradise, due to the particular inflorescence very similar to a bird, it has large bright leaves and takes us back to the atmosphere of the ancestral jungle.
It is a flowering plant belonging to the family of Musaceae the same family as the banana tree and is native to Southern Africa.
The Bird of Paradise flower it grows well in sunny environments, but it must be sheltered from strong winds. This plant also resists low temperatures quite well, but it is still better to avoid exposing it for prolonged periods to temperatures below 5 ° C.
The Sterlitzia can also be placed outdoors, in a large flowerpot in a sunny place, always make sure you have a good drainage, so it is not recommended to use a flowerpot or planter with water under the pot
CARE
Choose for a terrain moist, fertile is well drained to avoid water stagnation that can cause root rot. During the flowering period and in the summer season, water the Sterlizia regularly, it is necessary to wait until the superficial part of the soil is dry before proceeding with watering.
During the most seasons cold, decrease irrigation but it is necessary to prevent the soil from drying out. Add del organic fertilizer or slow release granular fertilizer.
It does not require pruning with the exception of the elimination of damaged leaves which must be removed at a distance of about 2 cm from the ground with sharp shears. It's about a medium resistant plant which is not afraid of particular diseases or parasites. Since Strelitzia is a plant that loves humidity, it is advisable to moisten the leaves from time to time, nebulizing it the surface with a special spray dispenser. In this operation, however, it is absolutely necessary not to involve the flowers that can be irremediably affected.
Data sheet
Exposure

Internal: full light

Flowering season

Winter

Height of plants

da 10 a 30 cm

Flower color

Orang
related products
compo - concime liquido piante fiorite da 1
live flower universal soil 20
Bayer baycote manure geraniums and flowering plants
12 other products in the same category: