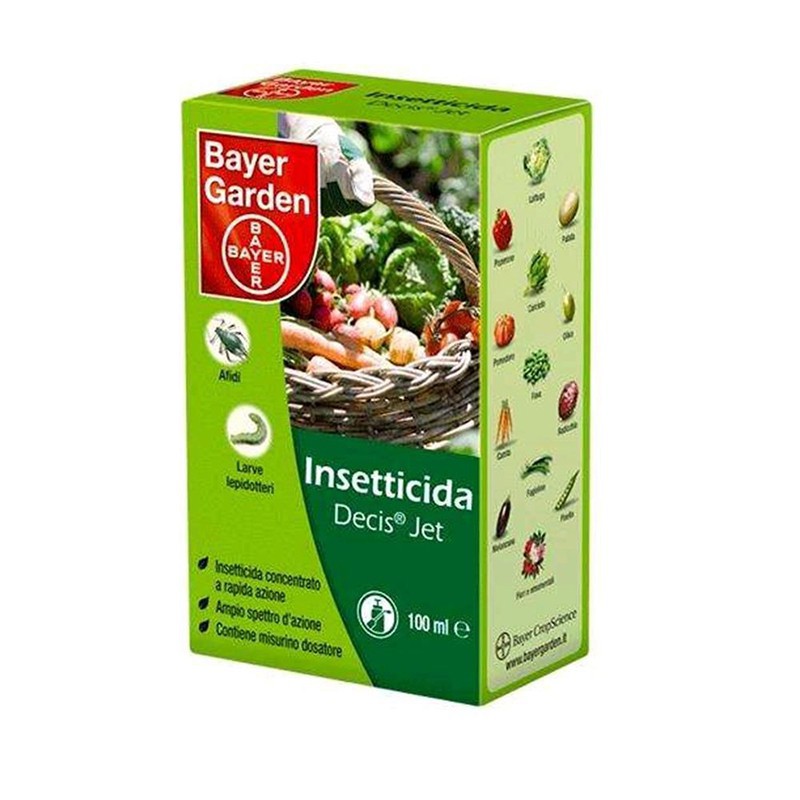  
Bayer insetticida piretroide decis jet
Reference: 8000560874297

PACKAGING AND SHIPPING COSTS
pyrethroid insecticide bayer decis jet 10ml.
insetticida piretroide a base di deltametrina che coniuga l` ottimo effetto abbattente e rapidità d` azione su svariati insetti ad un breve intervallo di carenza. infatti è attivo su numerosi insetti quali afidi, mosca bianca, dorifora, tripidi, nottue, cavolaia, piralide, cimici e molti altri. la speciale formulazione con olio vegetale migliora l` efficacia, aumenta la durata di azione del principio attivo e garantisce un maggiore rispetto per l` ambiente. decis jet protegge piu` di 40 tra colture orticole, frutticole, vite, olivo e agrumi, piante floricole e ornamentali. è disponibile in diverse confezioni per meglio incontrare le esigenze dei diversi consumatori e le confezioni dispongono di misurino disatore e tappo salva bimbo (20ml) vantaggi - applicabile su molte colture - insetticida polivalente, agisce sui principali insetti dannosi - attività repellente, evita la reinfestazione - pochi giorni di carenza su molte colture
related products
Compo Systemic Insecticide protects Citrus and fruit, vegetables and ornamental 5 ml
Out of stock
Demetrina Flow PFnPE, agropharmaceutical that allows the control of aphids, moth larvae, bedbugs, Colorado beetles, depressaria, borer, fly, moth, plane tree bug, beetle, cetonia, lepidoptera larvae, ...
50ml for 60 l of solution.
12 other products in the same category: