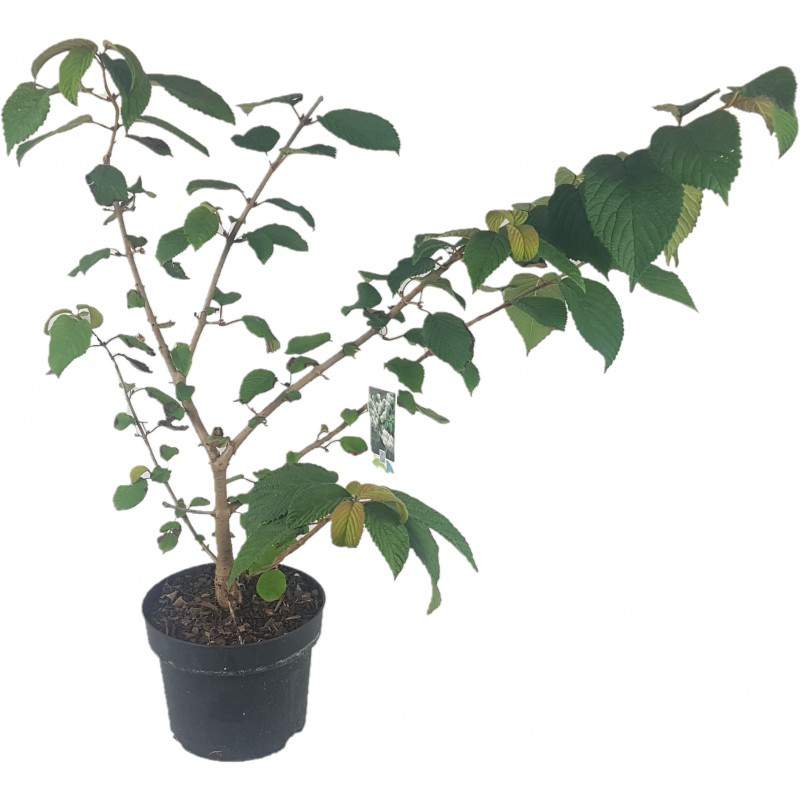  
VIBURNUM PLICATUM POPCORN - SNOWBALL
Reference: TP-81100187

PACKAGING AND SHIPPING COSTS
Viburnum plicatum popcorn or snowball plant is a plant from the Caprifoliaceae family. It was discovered in Japan by the English botanist Charles Maries, known for the very particular flowers in the shape of a snowball in a 21cm pot
The Viburnum plicatum popcorn plant is a deciduous ornamental shrub, which bears very regular antlered branches, with corded, tapered, toothed, dark green leaves with deep veins, up to 10 cm long, turning slightly to purple red in autumn . In late spring it develops spherical, white flowers up to 3 cm wide, collected in spherical terminal buds, up to 12 cm wide. It produces ovoid red fruits, black when ripe. It can reach a height of about 3 meters. It prefers a sunny position, suitable for shrub borders, woodland gardens and hedges.
It goes well in combination with plants and conifers.
Pruning: Eliminate dry or damaged parts
Temperature: It is advisable not to drop below -5-7 ° and not to exceed 25 °. If the temperatures are higher we can help the plant by increasing the humidity rate.
Substrate: Slightly acid In the case of a rather light mix with a prevalence of peat. Use sand or gravel for drainage.
12 other products in the same category:
Out of stock
perennial herbaceous plant, up to 60cm high, with bright blue flowers.
Petunia or Surfinia is one of the most appreciated plants for its constant and abundant flowering, lilac flower.
hydrangea is an ornamental plant that is grown in many varieties. Hydrangea is part of the Hydrangeaceae family, Hydrangea genus. A plain with a romantic look, in bright colors, capable of giving new life to a garden or terrace. A plant that is also appreciated in apartments.
Growed in 19 cm pot.
Out of stock
The ivy or Parisian geranium is one of the most appreciated plants for its constant flowering, pink flower.
Azalea or Rhododendron, also known as Rosa delle Alpi is an evergreen shrub native to the European mountain ranges where it grows on acid soils above the treeline, renowned for its summer bell-shaped flowers with white, pink, red and lilac colors. The leaves can take on different colors from green to carmine red.
Perennial plant with rounded, wavy leaves with long petioles with white, pink, red, purple and even orange flowers, 10.5 cm pot
The Formium or Phormium is an evergreen shrub consisting of large tufts of long ribbon-like leaves with green to red colors. grows to heights of 150cm. Originally from New Zealand.
Known for the fact that spiced powder that is commonly found on the market is extracted from its roots, turmeric is a plant of tropical origin suitable to be grown as a houseplant and to illuminate any corner of the house through its beautiful flowers.
Bouganvillea is a plant with a Mediterranean climate, highly appreciated for the color it can give to walls and pergolas.
Height approximately 180cm