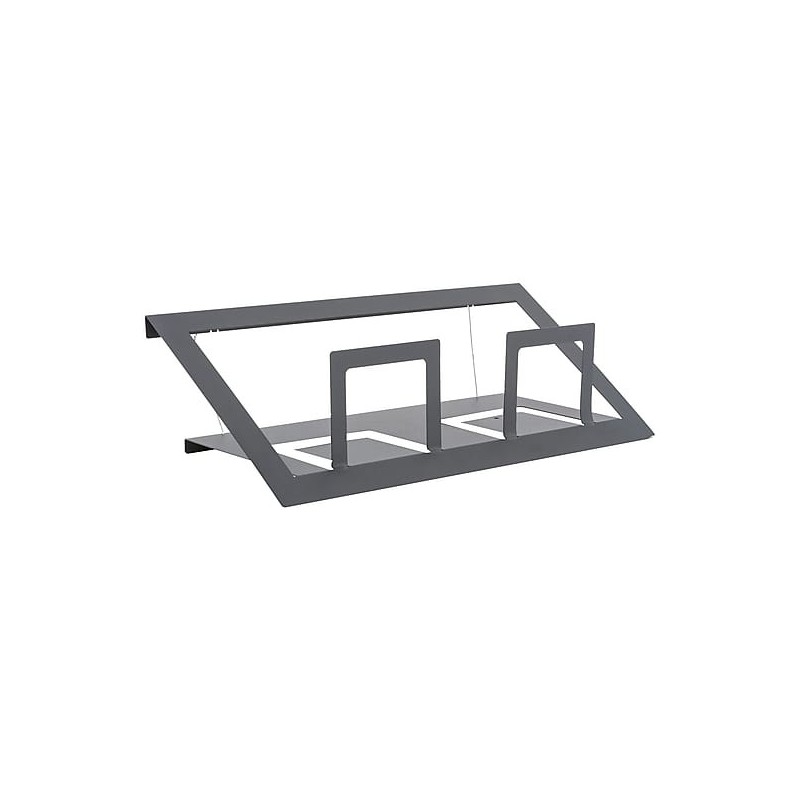  
Window box holder anthracite 50 cm
Reference: TD50nr
Trizone is a stylish bookshelf that can transform into a pot holder thanks to its adjustable varrier and also thanks to its different hook kits, capacity for window box of 50 cm
With trizone you can decorate vertical walls indoor and outdoor, railings and windowsill.
Its versatile hook system, safe and patent allows an externally high functionality. Trizone is a stylish book shelf, a pot holder with a shelf functionality. An excellent solution to put flowers outside and to create vertical garden; also safety is guaranteed by the adjustable barriers.
Trizone is made by a single piece of steel, without welding, allowing to ensure solidity and lightness at the same time.
It can also be used on the outside in railings as a little table or shelf.
The accurate choices of the materials, of the workmanship without welding and the hook system ensure quality and durability in any weather condition also the precious finishes and the minimum encumbrance of Trizone in its box put the final touch on the product.
12 other products in the same category:
Balcony hanging flower box with adjustable fixing system for pots up to 62cm width.
Adaptable to thresholds, railings, walls from 2 to 34 cm thick!
Hanging flowerpot with Fixed hooks black made in metal for balcony and railings up to 6 cm (2,3 in)
Internal basket dimensions: 82x14 cm (32x5,5 in)
Height 17,5 cm (7 in)
Silvano version 2020, no-drill window box holder, the only one patented windowbox planter holder easy and safe to place outside the windowsill. It is adjustable in two different heights, low if used for windows openings towards the outside, flat for those who can have plants at windowsill height.
Does not obstruct the opening of blackout blinds or windows.
Color: White and Anthracite
Lechuza Balconera cottage 80 coffee complete set of irrigation kit.
Balconera di Lechuza is perfect for the green of the balconies.
Equipped with the self-watering system that guarantees the plants the right amount of water allowing a luxuriant growth.
Water tank with a capacity of approximately 4 liters
Out of stock
Elho green Basics balcony box railing bowl
Elho green basics trough mini all in one
Elho Green Basics balcony tray lime green
Flowerbox set green basics plastic