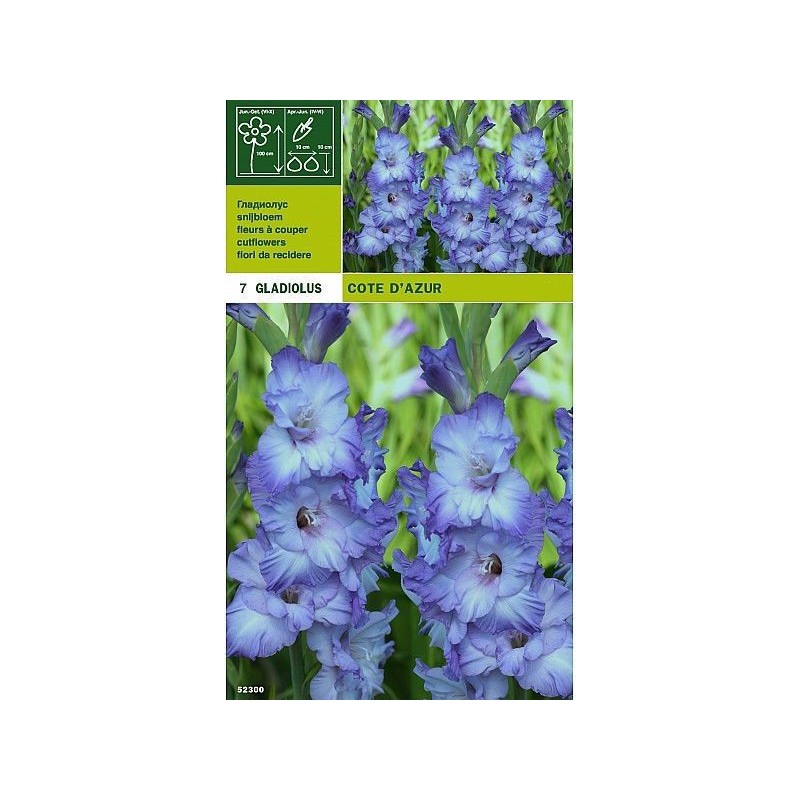  
gladioli cote d'azur 7 bulbs
Reference: 8711483055235

PACKAGING AND SHIPPING COSTS
bulbi gladioli cote d'azur (confezione da 7 bulbi)
gladiolus cote d'azur, ibrido alto 100 cm a fiori bianchi screziati di violetto ai margini, può essere coltivato in giardino, al sole, in compagnia di erbacee perenni e fiori annuali viola, rosa o bianchi, interrando gruppi di 7-9 cormi (i bulbi) distanziati di 15 cm l'uno dall'altro. nell'orto può invece essere coltivato per i fiori di taglio, con l'accortezza di mettere a dimora i bulbi scalarmente da aprile a fine giugno, ogni due settimane, a gruppi di 10-15, sempre a 10 cm di profondità e altrettanti di distanza tra loro. i cormi vanno estirpati in autunno, quando le foglie sono seccate, e riposti in sabbia o torba asciutta sino all' anno seguente. i gladioli crescono bene e facilmente in terra fertile e molto ben drenata, con l' aiuto eventuale di una concimazione liquida ogni due settimane da quando comincia a formarsi lo stelo dei fiori sino a quando le foglie sono ingiallite. in piena estate annaffiare a fondo 2-3 volte alla settimana.
12 other products in the same category:
Narcissus "Mount Hood" with marvelous large, pure white flowers. Contains 5 bulbs.
The Woodstock hyacinth has beautiful clusters of starry plum-colored flowers, very fragrant. Contains 5 bulbs.
Tulip bulbs of the Sunbath variety, with a spring flowering that leads to the birth of magnificent orange flowers, combined with others of a delicate cream color. These tulips are ideal for catching attention in the garden, but also on the balcony! It contains 15 bulbs.
These daffodils produce magnificent flowers that make a stunning vase effect and also give a delicate fragrance. Contains 5 bulbs.
Narcissus Paperwhite is an autumn flowering Narcissus that is part of the Tazetta family of narcissus. The flowers give off a real and delicious scent. Contains 5 bulbs.
Make your flower beds and garden look stunning with this bulb mix that will give you gorgeous spring blooms.
Two-tone green and pink full tulip with cream reflections and soft green leaves. A truly stunning flower that creates interest and curiosity. Contains 7 bulbs.
Tulip bulbs of the Kaufmanniana species and the Stresa variety, particular due to the combination of colors inside the flowers, which are internally yellow and externally reddish. In the sun they have a magical effect: they completely open into stars. It contains 7 bulbs.
Easy to grow crocus bulbs both in the ground and in pots! The flowering, which takes place in spring, will lead to surprising results: the crocus flowers are able to immediately capture the attention due to their beautiful colors, which go from white through shades of pink and purple, up to the yellow and beautifully streaked.
Pack of 15 bulbs