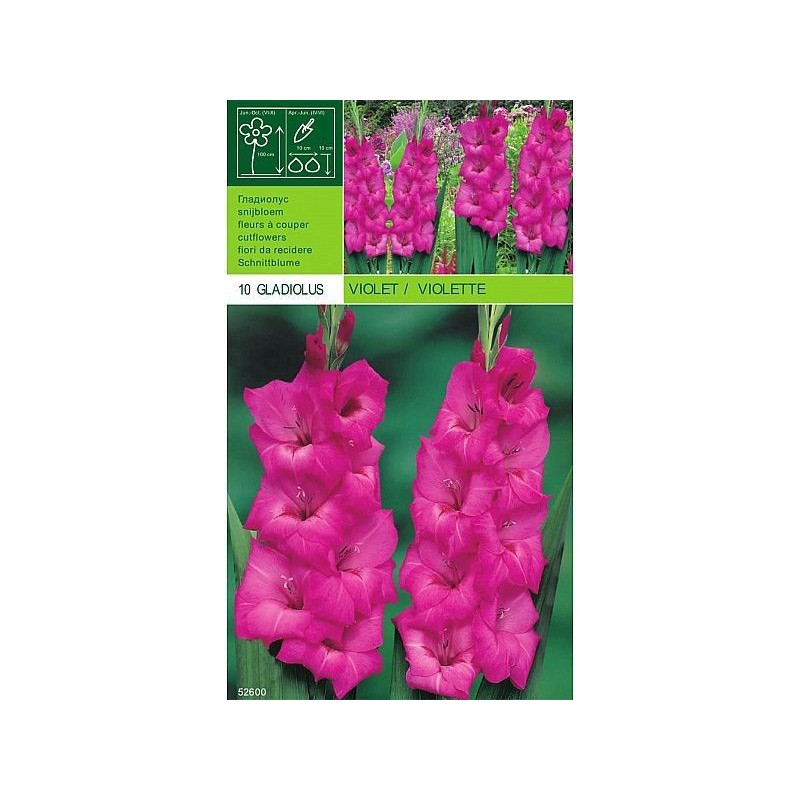  
Gladiolus violet 10 bulbs
Reference: 8711483055266

PACKAGING AND SHIPPING COSTS
gladiolus violet (confezione da 10 bulbi)
gladiolus violet, ibrido alto 100 cm con una vistosa fioritura rosa carico cangiante in tonalità ciclamino e fucsia, può essere coltivato in giardino, al sole, in compagnia di erbacee perenni e fiori annuali viola, rosa o bianchi, interrando gruppi di 7-9 cormi (i bulbi) distanziati di 15 cm l'uno dall'altro. nell'orto può invece essere coltivato per i fiori di taglio, con l'accortezza di mettere a dimora i bulbi scalarmente da aprile a fine giugno, ogni due settimane, a gruppi di 10-15, sempre a 10 cm di profondità e altrettanti di distanza tra loro. i cormi vanno estirpati in autunno, quando le foglie sono seccate, e riposti in sabbia o torba asciutta sino all' anno seguente. i gladioli crescono bene e facilmente in terra fertile e molto ben drenata, con l' aiuto eventuale di una concimazione liquida ogni due settimane da quando comincia a formarsi lo stelo dei fiori sino a quando le foglie sono ingiallite. in piena estate annaffiare a fondo 2-3 volte alla settimana.
12 other products in the same category:
Easy to grow crocus bulbs both in the ground and in pots! The flowering, which takes place in spring, will lead to surprising results: the crocus flowers are able to immediately capture the attention due to their beautiful colors, which go from white through shades of pink and purple, up to the yellow and beautifully streaked.
Pack of 15 bulbs
The hyacinth of water is a floating plant appreciated as ornamental flower plant to beautify the artificial lakes and because it is easy to cultivate also in pot. Contains 3 bulbs.
Gladiolus colors mix (pack of 50 bulbs)
Out of stock
Tulip bulbs of the Greigii species, characterized by a small size and an early flowering, which normally occurs in April. The colors are varied and extremely original in all three varieties we have selected: Johann Strauss (7 bulbs), Fun Colors (7 bulbs) and Red Hiding Hood (10 bulbs). Tulip Greigii Mix contain 25 bulbs.
Strong large-crowned daffodils that come in a mix of gorgeous spring colors, combining warm yellow and white. Beautiful to embellish gardens, but also for balconies and terraces.
Tulip bulbs of the Multiflora species, one of the most attractive due to its multiple flowering: Fiery club (5 bulbs) and Candy Club (7 bulbs) give you different flowers from each bulb!
Combined together in the shades of yellow, as well as cream white, orange and in all the combinations of these colors, they are spring flowers that bloom from April, bringing joy to the garden with their crown made up of multiple petals. They are multi-year bulbs, so they also give their beauty the following year. It contains 15 bulbs.
The elegance of the tulip and the beauty of the narcissus come together in a wonderful riot of colors that include shades of white, combined in tulips with beautiful purple streaks. These flowers are able to embellish your garden or even your balcony! It contains 15 bulbs.
Also known as Amaryllis or as Hippeastrum, Amarillo is a very popular houseplant due to the majesty of its flowers and its prolonged blooms: each stem bears three or more flowers, which will bloom in succession, extending the beauty of this plant. It contains 1 bulb.