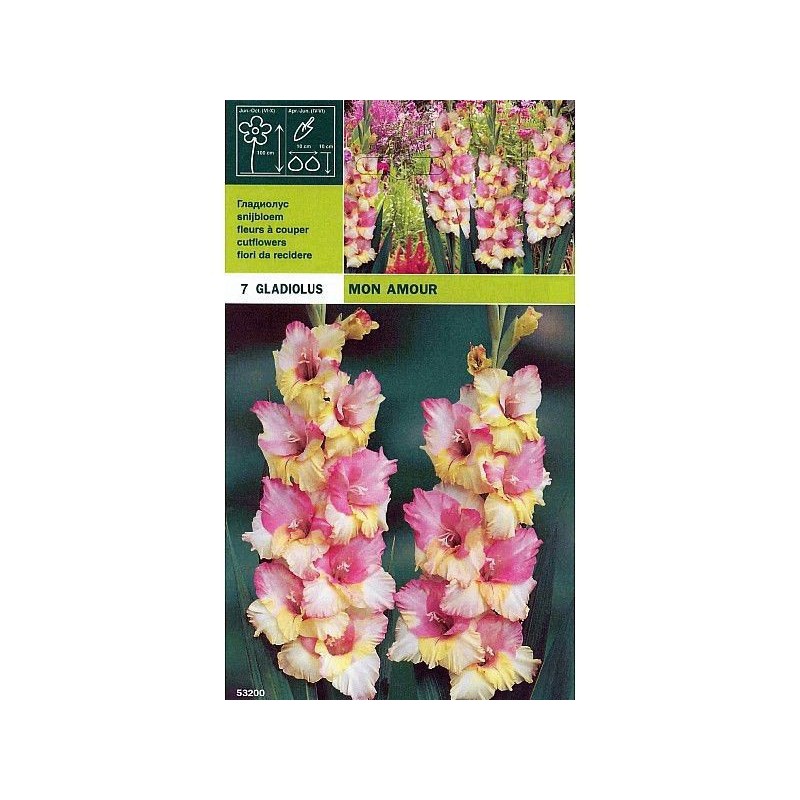  
Gladiolus mon amour 7 bulbs
Reference: 8711483055327

PACKAGING AND SHIPPING COSTS
gladiolus mon amour (confezione da 7 bulbi)
gladiolus mon amour, ibrido alto 100 cm che indossa eleganti colori pastello di tendenza, giallo crema e rosa antico. può essere coltivato in giardino, al sole, in compagnia di erbacee perenni e arbusti con la vegetazione color bronzo o porpora, interrando gruppi di 7-9 cormi (i bulbi) distanziati di 15 cm l'uno dall'altro. nell'orto può invece essere coltivato per i fiori di taglio, con l'accortezza di mettere a dimora i bulbi scalarmente da aprile a fine giugno, ogni due settimane, a gruppi di 10-15, sempre a 10 cm di profondità e altrettanti di distanza tra loro. i cormi vanno estirpati in autunno, quando le foglie sono seccate, e riposti in sabbia o torba asciutta sino all' anno seguente. i gladioli crescono bene e facilmente in terra fertile e molto ben drenata, con l' aiuto eventuale di una concimazione liquida ogni due settimane da quando comincia a formarsi lo stelo dei fiori sino a quando le foglie sono ingiallite. in piena estate annaffiare a fondo 2-3 volte alla settimana.
12 other products in the same category:
These narcissus are flowers that cannot be missing in the garden! When planted in groups they will be the joy of the eye in bloom. Contains 5 bulbs.
The hyacinth of water is a floating plant appreciated as ornamental flower plant to beautify the artificial lakes and because it is easy to cultivate also in pot. Contains 3 bulbs.
Tulip bulbs of the Sunbath variety, with a spring flowering that leads to the birth of magnificent orange flowers, combined with others of a delicate cream color. These tulips are ideal for catching attention in the garden, but also on the balcony! It contains 15 bulbs.
The elegance of the tulip and the beauty of the hyacinth come together in a wonderful riot of colors that include all shades of purple. These flowers are able to embellish your garden or even your balcony! It contains 15 bulbs.
Hyacinth orientalis in a nursery pot ready to bloom w perfume rooms and terraces. Choose your favorite pastel colors from blue, white, yellow, pink and red!
Enchanting for the incredible scent it releases during flowering, freesia is characterized by cheerful colors and the elegance of its bearing, which make it perfect as an ornamental plant, both in gardens and for growing in pots! It contains 20 bulbs.
These daffodils produce magnificent flowers that make a stunning vase effect and also give a delicate fragrance. Contains 5 bulbs.
The 'Yellowstone' hyacinth is a bright plant with yellow flowers that enrich your space. Contains 5 bulbs.
The Buttercup (belonging to the Ranunculus genus) is a flower with bright and lively colors and a very elegant shape. It is highly appreciated both for its ease of cultivation and as a cut flower to create wonderful and refined floral compositions. It contains 10 bulbs.
Out of stock
Long-lasting and bright colored hyacinth variety. Contains 5 bulbs.
Also known as the lily of the Madonna or the lily of St. Anthony, Lilium candidum produces large white and very fragrant trumpet flowers that bloom from June to September. It is ideal for planting in gardens as an ornamental and it adapts easily to any type of soil! It contains 1 bulb.