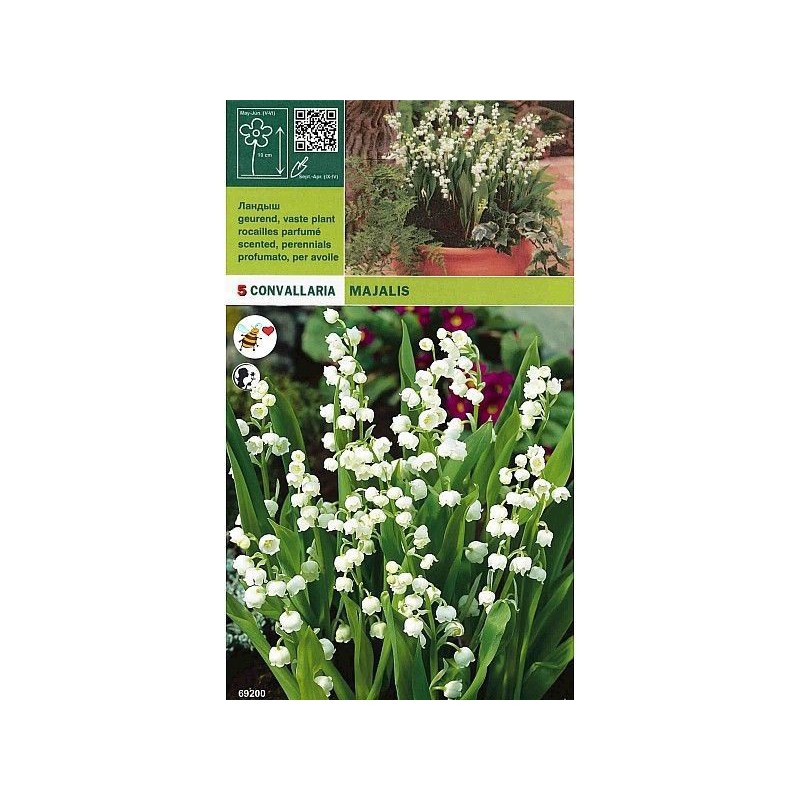  
Convallaria majalis 5 bulbs
Reference: 8711483056928

PACKAGING AND SHIPPING COSTS
bulbi primaverili convallaria majalis (confezione da 5 bulbi)
convallaria majalis, piccola pianta strisciante (10 cm) dei nostri boschi, è il più rustico e profumato ornamento del sottobosco in ombra. per formare un tappezzamento esteso, le radici rizomatose si piantano in terra ricca di humus e terriccio di foglie o compost, a pochi centimetri di profondità e a 20 cm di distanza l' una d all' altra. i fiori durano parecchi giorni nei mazzolini di primavera. si coltiva anche in vasi di 15-18 cm di diametro, ma dopo 2-3 anni è necessario rinvasare in contenitori più grandi.
10 other products in the same category:
Hyacinth orientalis in a nursery pot ready to bloom w perfume rooms and terraces. Choose your favorite pastel colors from blue, white, yellow, pink and red!
gladiolus mon amour (confezione da 7 bulbi)
Bulb of White or Red Garlic, shipped in bulk
Also known as the lily of the Madonna or the lily of St. Anthony, Lilium candidum produces large white and very fragrant trumpet flowers that bloom from June to September. It is ideal for planting in gardens as an ornamental and it adapts easily to any type of soil! It contains 1 bulb.
Narcissus bulbs are easy to grow and in spring they give us a beautiful flower, elegant, refined and very fragrant. Contains 5 bulbs