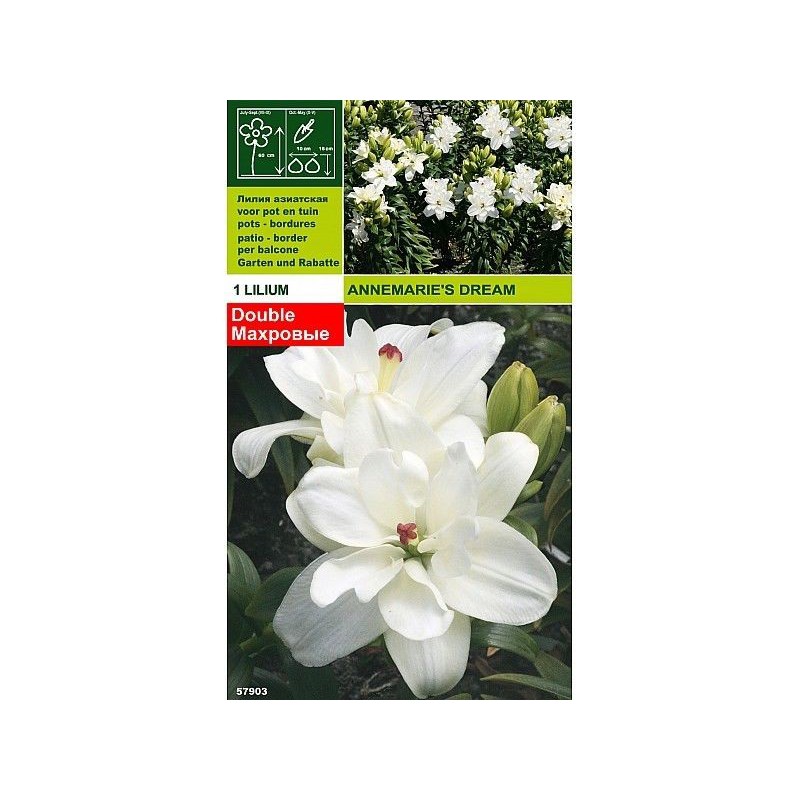  
Lillium annamarie's dream 1 bulb
Reference: 8711483103141

PACKAGING AND SHIPPING COSTS
lilium annemarie's dream (confezione da 1 bulbo)
lilium doubleflowering annemarie's dream, ll candore assoluto caratterizza questa splendida varietà a fiori doppi del gruppo dei gigli asiatici, caratterizzati da fiori grandi, eretti su un fusto robusto e rigido, alto 60 cm si coltiva bene in terra soffice e ben concimata con sostanza organica, sempre fresca in estate, meglio asciutta in inverno quando il cormo (il bulbo) è in riposo. preferisce il sole o la mezz' ombra molto luminosa e la vicinanza solo di fiori altrettanto eleganti, bianchi o blu. eccellente scelta soprattutto per i vasi, per avere sempre a portata di sguardo i suoi fiori davvero speciali. piantagione in marzo-aprile, fioritura in giugno-luglio.
12 other products in the same category:
Two-tone green and pink full tulip with cream reflections and soft green leaves. A truly stunning flower that creates interest and curiosity. Contains 7 bulbs.
Out of stock
Ornamental garlic is a very popular plant due to its resistance and to the fact that it is easy to care. It is also extremely decorative: it has beautiful star flowers in shades of lilac and white, which bloom from late spring to late summer. It contains 1 bulb.
Long-lasting and bright colored hyacinth variety. Contains 5 bulbs.
Narcissus Paperwhite is an autumn flowering Narcissus that is part of the Tazetta family of narcissus. The flowers give off a real and delicious scent. Contains 5 bulbs.
Narcissus "Mount Hood" with marvelous large, pure white flowers. Contains 5 bulbs.
Gladiolus colors mix (pack of 50 bulbs)
gladiolus mon amour (confezione da 7 bulbi)
Tulip bulbs of the Kaufmanniana species and the Stresa variety, particular due to the combination of colors inside the flowers, which are internally yellow and externally reddish. In the sun they have a magical effect: they completely open into stars. It contains 7 bulbs.
Tulip bulbs of the Parrot species, one of the most particular and enchanting in the world due to its shape similar to a parrot and its flaming yellow color mixed with red in the Flaming parrot variety and peachy pink in the Apricot parrot variety! They contain 7 bulbs.
gladiolus mon amour (confezione da 7 bulbi)
The scent of these blooming hyacinths is a symbol for any plant lover. Contains 5 bulbs.