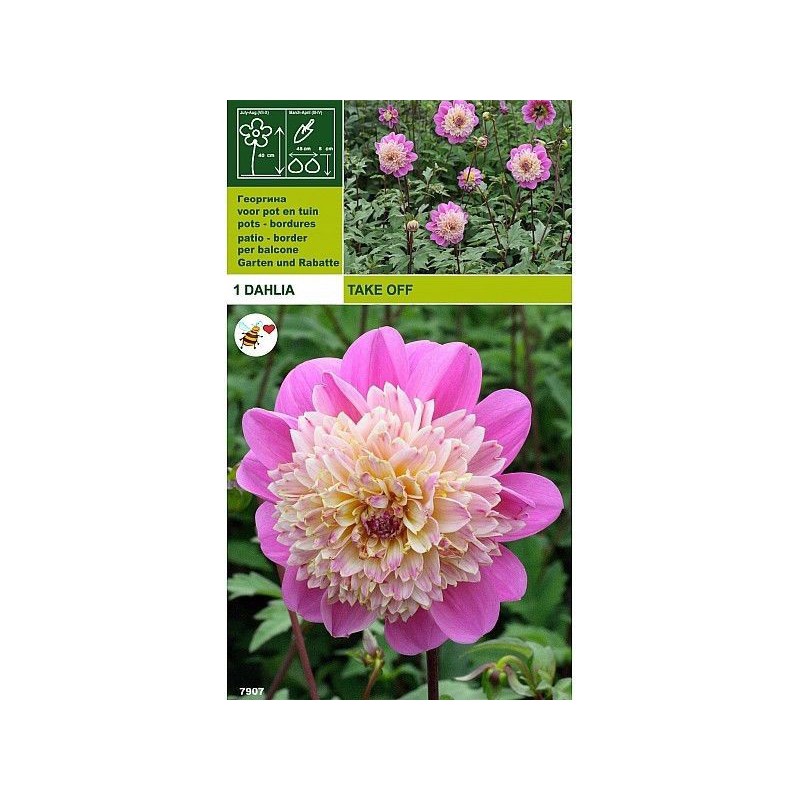  
Dahlia take off 1 bulb
Reference: 8711483106067

PACKAGING AND SHIPPING COSTS
dahlia take off (confezione da 1 bulbo)
dahlia anemoneflowering take off, dalia di grande personalità , indossa petali rosa carico all' esterno e un vistoso ciuffo di piccoli petali rosa chiaro al centro. da evitare l' accostamento a fiori di altri colori. da provare per un magnifico effetto estivo un' aiuola intera di queste dalie, piantando i tuberi a 50 cm tra loro. brbrbulbi primaverili adatti per essere piantati in aiuole, vasi, giardino.
12 other products in the same category:
The Buttercup (belonging to the Ranunculus genus) is a flower with bright and lively colors and a very elegant shape. It is highly appreciated both for its ease of cultivation and as a cut flower to create wonderful and refined floral compositions. It contains 10 bulbs.
These daffodils produce magnificent flowers that make a stunning vase effect and also give a delicate fragrance. Contains 5 bulbs.
The elegance of the tulip and the beauty of the hyacinth come together in a wonderful riot of colors that include all shades of purple. These flowers are able to embellish your garden or even your balcony! It contains 15 bulbs.
Lily-flowered tulip bulbs, with spring flowering that leads to magnificent red and yellow flowers for the Fire Wings variety and purple and white for the Claudia variety. They are ideal for catching attention in the garden, but also suitable for growing in pots on the balcony!
Strong large-crowned daffodils that come in a mix of gorgeous spring colors, combining warm yellow and white. Beautiful to embellish gardens, but also for balconies and terraces.
A mix of the two most beautiful late double tulips, Mount Tacoma and Angélique, which are combined together in the delicate pastel colors of white and light pink. It contains 15 bulbs.
These are truly delightful hyacinths that will cheer you up almost immediately with their fragrant flowers. Contains 5 bulbs.
The beauty and singularity of the many corollas and their penetrating scent make the hyacinth one of the absolute protagonists of balconies and gardens. These hyacinths, which explode in an incredible riot of delicate pastel colors, are suitable for embellishing any green area of ​​your home. It contains 10 bulbs.