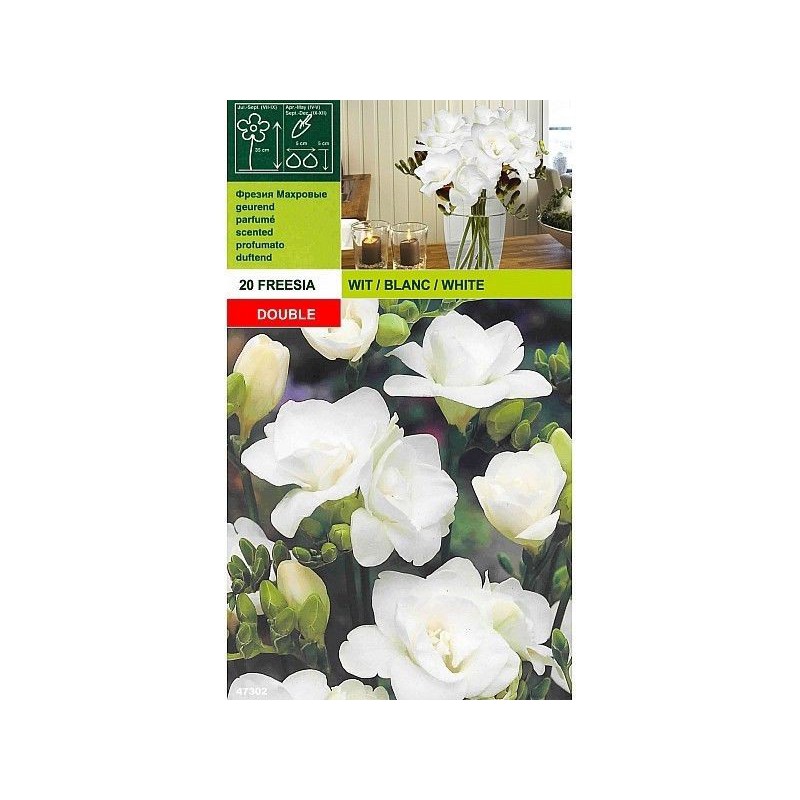  
Freesia double white 20 bulbs
Reference: 8711483106111

PACKAGING AND SHIPPING COSTS
freesia double white (confezione da 20 bulbi)
freesia double white, candida e profumatissima, questa fresia a fiori doppi alta 30 cm e oltre farchè la gioia di coloro che adorano il giardino aromatico tutto bianco e grigio, per esempio con lavanda, timo, salvia officinale, con cui la fresia condivide l' esigenza del pieno sole e di terra fertile e molto ben drenata.brbressendo una pianta sensibile al freddo, nelle regioni con clima invernale gelivo va coltivata in vaso, interrando in aprile a 3-4 cm di profondità e a 5 cm tra loro i cormi (i piccoli bulbi).
12 other products in the same category:
Out of stock
Long-lasting and bright colored hyacinth variety. Contains 5 bulbs.
Narcissus Paperwhite is an autumn flowering Narcissus that is part of the Tazetta family of narcissus. The flowers give off a real and delicious scent. Contains 5 bulbs.
Bulb of White or Red Garlic, shipped in bulk
Commonly known as cyclamen, the cyclamen hederifolium is one of the most loved and most widespread plants in the homes and gardens of our country, due to the flowers, colors and emotions it can give. It contains 2 bulbs.
Also known as the lily of the Madonna or the lily of St. Anthony, Lilium candidum produces large white and very fragrant trumpet flowers that bloom from June to September. It is ideal for planting in gardens as an ornamental and it adapts easily to any type of soil! It contains 1 bulb.
Out of stock
Tulip bulbs of the Parrot species, one of the most particular and enchanting in the world due to its shape similar to a parrot and its flaming yellow color mixed with red in the Flaming parrot variety and peachy pink in the Apricot parrot variety! They contain 7 bulbs.
Tulip bulbs of the Sunbath variety, with a spring flowering that leads to the birth of magnificent orange flowers, combined with others of a delicate cream color. These tulips are ideal for catching attention in the garden, but also on the balcony! It contains 15 bulbs.
Narcissus "Mount Hood" with marvelous large, pure white flowers. Contains 5 bulbs.
Tulip bulbs of the Kaufmanniana species and the Stresa variety, particular due to the combination of colors inside the flowers, which are internally yellow and externally reddish. In the sun they have a magical effect: they completely open into stars. It contains 7 bulbs.
These daffodils produce magnificent flowers that make a stunning vase effect and also give a delicate fragrance. Contains 5 bulbs.
Out of stock
The family of 'Triumph' tulips is one of the most important groups: rustic and robust, they have a solid stem, which resists the weather and lasts a long time as a cut flower. They have lanceolate, glaucous leaves and beautiful flowers with pointed petals. There are many varieties available, in every color. They contain 10 bulbs.