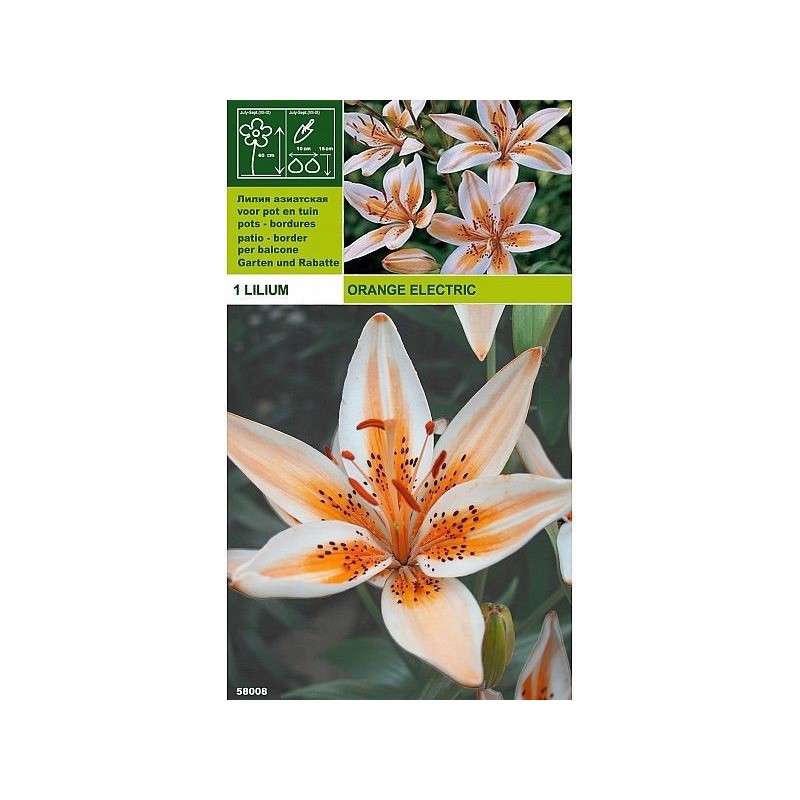  
Lillium asiatic orange electric 1 bulb
Reference: 8711483110361

PACKAGING AND SHIPPING COSTS
lilium asiatic orange electric (confezione da 1 bulbo)
lilium asiatic orange electric, varietà di grande interesse ornamentale per i petali bianco burro attraversati al centro da una vistosa pennellata arancione. appartiene al gruppo dei gigli asiatici, caratterizzati da fiori grandi, eretti su un fusto robusto e rigido, alto 60 cm si coltiva bene in terra soffice e ben concimata con sostanza organica, sempre fresca in estate, meglio asciutta in inverno quando il cormo (il bulbo) è in riposo. preferisce il sole o la mezz' ombra molto luminosa e la compagnia di fiori estivi nelle tonalità preziose del giallo e del rosso. eccellente scelta anche per i vasi e per fiori da taglio. fioritura giugno-luglio.
10 other products in the same category:
Bulb of White or Red Garlic, shipped in bulk
Narcissus bulbs are easy to grow and in spring they give us a beautiful flower, elegant, refined and very fragrant. Contains 5 bulbs
Hyacinth orientalis in a nursery pot ready to bloom w perfume rooms and terraces. Choose your favorite pastel colors from blue, white, yellow, pink and red!
gladiolus mon amour (confezione da 7 bulbi)
Also known as the lily of the Madonna or the lily of St. Anthony, Lilium candidum produces large white and very fragrant trumpet flowers that bloom from June to September. It is ideal for planting in gardens as an ornamental and it adapts easily to any type of soil! It contains 1 bulb.