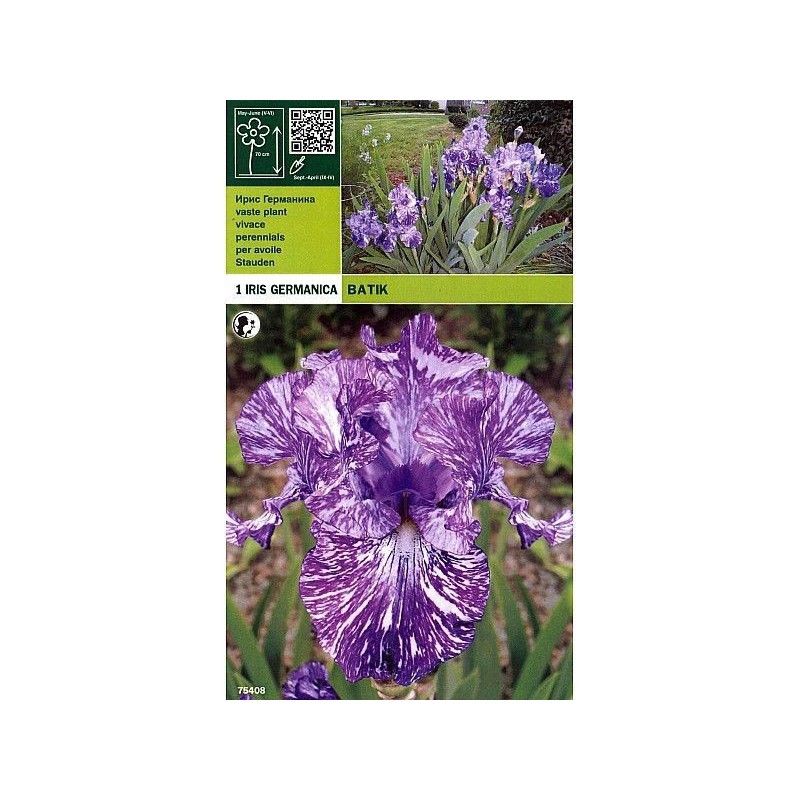  
Iris germanica batik 1 root
Reference: 8711483115991

PACKAGING AND SHIPPING COSTS
iris germanica batik (confezione da 1 radice)
iris germanica batik, molto fiorifero e precoce, con vistose striature violette su fondo bianco. l' iris, o giglio di firenze, è una delle piante da fiore di aprile-inizio maggio più facili da coltivare, in piena terra e in vaso. ama il sole, la terra anche magra, asciutta e calcarea. eccellente soluzione per rivestire le scarpate, è anche una bella associazione con le rose e crea bordure sempre ordinate lungo i viali e ai piedi delle siepi. per conservare la massima fioritura, dopo 3-4 anni i rizomi vanno dissotterrati in agosto, divisi e ripiantati distanziati ogni 30 cm in tutte le direzioni, scartando le porzioni di rizoma più vecchie.
12 other products in the same category:
Enchanting mix of Anemone de caen flowers that explode in a riot of intense colors: starting from white and passing through the shades of fuchsia and purple, you get to the brightest tones of red. These flowers are perfect for livening up the garden, but also for giving a touch of color to the balcony, growing them in pots! It contains 15 bulbs.
The species of iris hollandica includes hybrid plants capable of producing a very large quantity of flowers with bright and brilliant colors. They are ideal as ornaments for gardens, flower beds and even terraces, as these bulbs can easily be grown in pots!
Iris red ember, silver beauty and autumn princess contain 10 bulbs. Iris mixed, blue, white and yellow contain 25 bulbs. Iris dwarf mixed contain 15 bulbs.
Also known as Amaryllis or as Hippeastrum, Amarillo is a very popular houseplant due to the majesty of its flowers and its prolonged blooms: each stem bears three or more flowers, which will bloom in succession, extending the beauty of this plant. It contains 1 bulb.
Blend of tulip bulbs with a spring flowering that leads to the birth of flowers with very delicate pastel colors, ranging from white, through the shades of pink and fuchsia, up to intense purple. These tulips are ideal for catching attention in the garden, but also on the balcony! It contains 15 bulbs.
Enchanting for the incredible scent it releases during flowering, freesia is characterized by cheerful colors and the elegance of its bearing, which make it perfect as an ornamental plant, both in gardens and for growing in pots! It contains 20 bulbs.
No one can beat Darwin tulips for color, strength and durability - they are excellent flower bulbs for growing. The stems are robust and the flowering is very colorful and lively with classic-shaped flowers in a goblet. They contain 10 bulbs.
The Woodstock hyacinth has beautiful clusters of starry plum-colored flowers, very fragrant. Contains 5 bulbs.
These are truly delightful hyacinths that will cheer you up almost immediately with their fragrant flowers. Contains 5 bulbs.