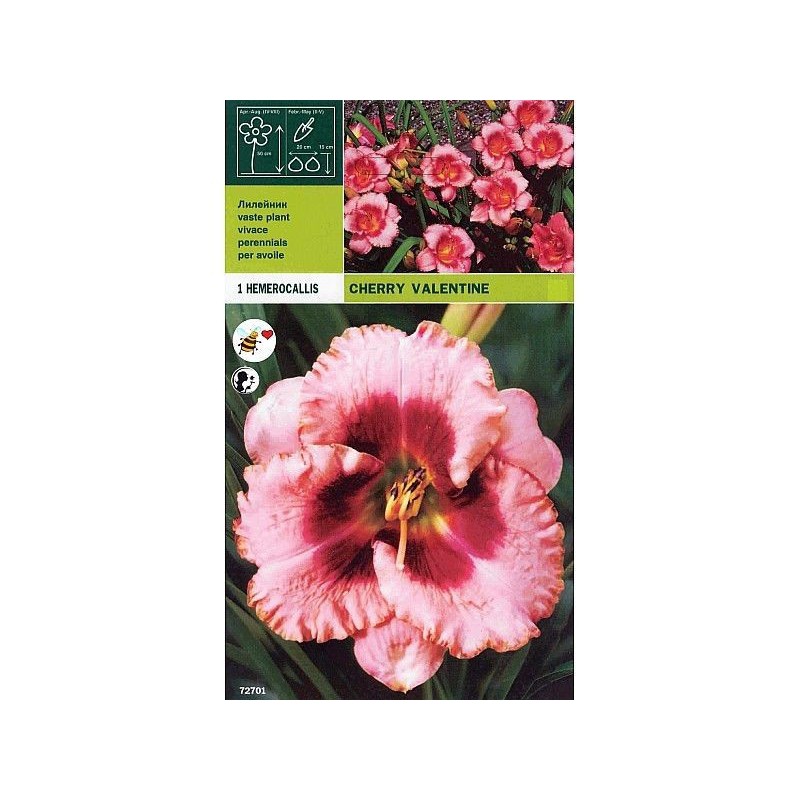  
Hemerocallis cherry valentine 1 root
Reference: 8711483727019

PACKAGING AND SHIPPING COSTS
hemerocallis cherry valentine (confezione da 1 radice)
hemerocallis cherry valentine, fiori grandi, a margini ondulati e gola scura per questa varietà rosa antico di grande eleganza, eccellente anche in vaso come unico ornamento per scaldare l' atmosfera di un cortile assolato. chiamata anche giglio di un solo giorno perchè i fiori si aprono e si chiudono nell' arco di una giornata, questa erbacea perenne di origine orientale ha radici rizomatose e foglie nastriformi che formano un ricco e ordinato ciuffo verde alla base. i fiori, leggermente profumati e portati in cima a steli alti circa 50 cm, sbocciano in racemi più o meno densi di boccioli che si aprono in successione in genere tra giugno e luglio. rusticissima, l' emerocallide preferisce il sole o la mezz' ombra e i terreni ben concimati, ricchi di humus e sempre un pò umidi. per un effetto massa notevole, prevedere almeno 5-7 piante disposte in cerchio a 50 cm tra loro o in fila per creare bordura.
10 other products in the same category:
Hyacinth orientalis in a nursery pot ready to bloom w perfume rooms and terraces. Choose your favorite pastel colors from blue, white, yellow, pink and red!
gladiolus mon amour (confezione da 7 bulbi)
Narcissus bulbs are easy to grow and in spring they give us a beautiful flower, elegant, refined and very fragrant. Contains 5 bulbs
Bulb of White or Red Garlic, shipped in bulk
Also known as the lily of the Madonna or the lily of St. Anthony, Lilium candidum produces large white and very fragrant trumpet flowers that bloom from June to September. It is ideal for planting in gardens as an ornamental and it adapts easily to any type of soil! It contains 1 bulb.