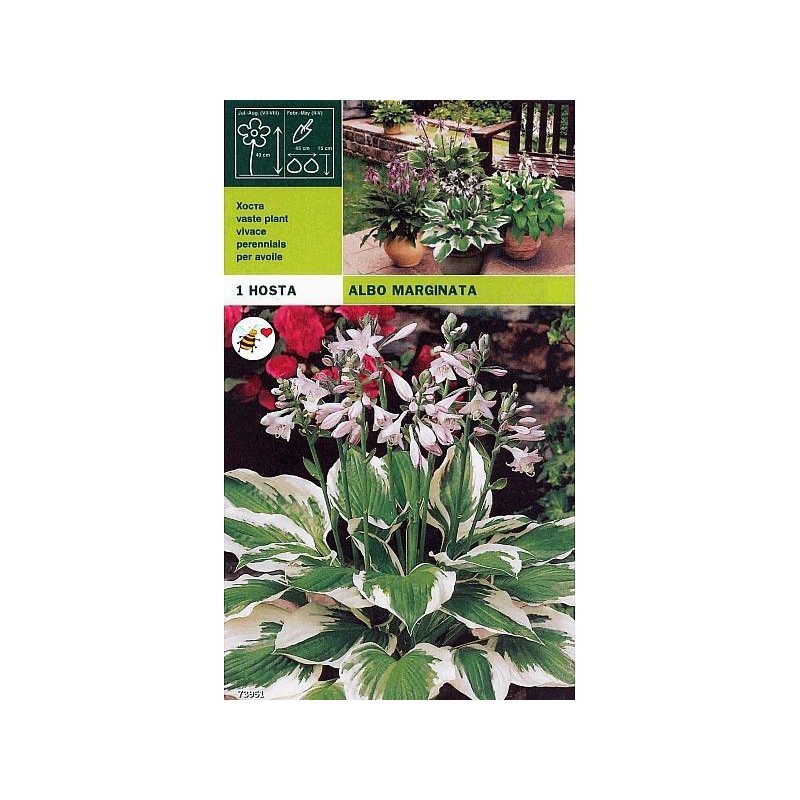  
Hosta albo marginata 1 root
Reference: 8711483739517

PACKAGING AND SHIPPING COSTS
hosta albo marginata (confezione da 1 radice)
hosta albo marginata, elegantissimo ornamento, le hosta abbinano al fogliame estremamente decorativo la bellezza della fioritura violetta o bianca, talvolta profumata, a metà estate. crescono bene anche in vasi sufficientemente ampi (almeno 20 cm di diametro, con rinvaso ogni due anni in vasi appena più grandi). per ottenere i migliori risultati bastano terra ben concimata e discrete annaffiature in estate e l' uso di un antilumache granulare ecologico per impedire che le foglie vengano rovinate. questa varietà classica ha le foglie grandi, ampiamente marginate di bianco, che ne consiglia l' uso per rischiarare un angolo molto ombroso. brbr
12 other products in the same category:
gladiolus mon amour (confezione da 7 bulbi)
These are truly delightful hyacinths that will cheer you up almost immediately with their fragrant flowers. Contains 5 bulbs.
Narcissus bulbs are easy to grow and in spring they give us a beautiful flower, elegant, refined and very fragrant. Contains 5 bulbs
Tulip bulbs of the Kaufmanniana species and the Stresa variety, particular due to the combination of colors inside the flowers, which are internally yellow and externally reddish. In the sun they have a magical effect: they completely open into stars. It contains 7 bulbs.
The Woodstock hyacinth has beautiful clusters of starry plum-colored flowers, very fragrant. Contains 5 bulbs.
These narcissus are flowers that cannot be missing in the garden! When planted in groups they will be the joy of the eye in bloom. Contains 5 bulbs.
The beauty and singularity of the many corollas and their penetrating scent make the hyacinth one of the absolute protagonists of balconies and gardens. These hyacinths, which explode in an incredible riot of delicate pastel colors, are suitable for embellishing any green area of ​​your home. It contains 10 bulbs.
Out of stock
Long-lasting and bright colored hyacinth variety. Contains 5 bulbs.