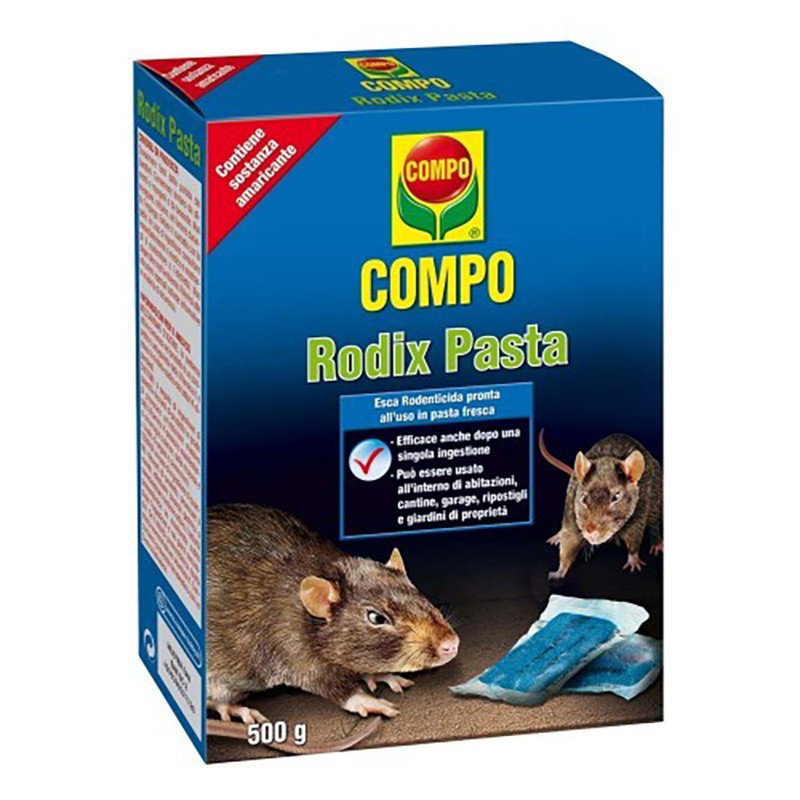  
Compo rodix pasta from 500 gr
Reference: 4008398021726

PACKAGING AND SHIPPING COSTS
compo - rodix pasta da 500 gr
rodix pasta è un' esca rodenticida a base della sostanza attiva anticoagulante difenacoum, efficace contro topolino domestico (mus musculus), ratto grigio (rattus norvegicus) e ratto nero (rattus rattus) anche dopo una singola ingestione. rodix pasta contiene una sostanza amaricante volta a prevenire l' ingestione accidentale da parte dei bambini.È ideale per i trattamenti all' interno, come abitazioni, cantine, garage, ripostigli.
12 other products in the same category:
zapi insecticide anti ants bait 500g
compo insecticide fazilo duaxo ppo 750ml.
Bayer five traps adhesive pheromones insect capture
It's time for mosquitoes, don't be caught unprepared!
We have selected for you two irreplaceable products for this time of year:
- the Aromatic Geranium Vulcano Aromatic Spirals - pack of 10 spirals
- A silhouette from the SpirHello floor collection
Buy them together in the special Summer KIT.
eco-tablet glue mice and insects
solabiol citrus insect adhesive traps 5 Pcs With Pheromones
Bait of lumachicide in granules of 1000 gr
Package name: Sepralim G line Agrosan
Oil against cochineal for winter, spring and summer.
Effective against aphid eggs, scale insects, red spider mites.
Ideal for fruit and ornamental crops
Fungicide based on sulfur