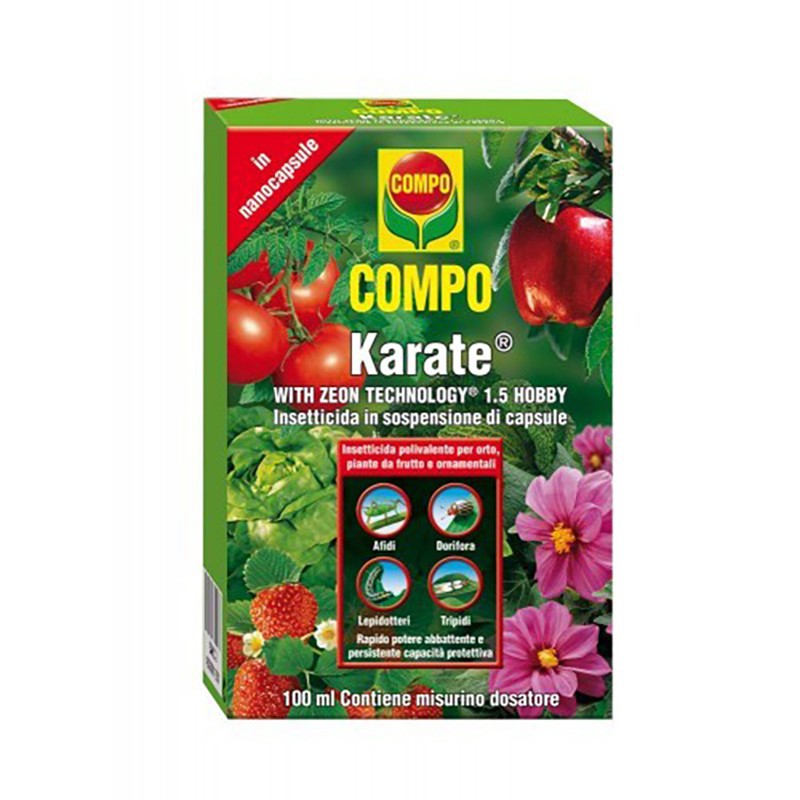  
Compo insetticida karate
Reference: 4008398119324

PACKAGING AND SHIPPING COSTS
compo insetticida karate 20ml
nuovo insetticida dotato di ampio spettro d' azione ed elevata efficacia. agisce essenzialmente per contatto e secondariamente per ingestione nei confronti di afidi, tripidi, lepidotteri e cicaline. possiede effetto repellente ed evidenzia la propria attività anche con piccole quantità di principio attivo. karate with zeon technology 1.5 hobby unisce un rapido potere abbattente ad una persistente capacità protettiva. il principio attivo è trattenuto all' interno di nanocapsule che rendono il prodotto fotostabile e particolarmente resistente al dilavamento dovuto a piogge dopo il trattamento.
12 other products in the same category:
Insecticide Wasps Hornets flea mosquitoes
Compo Systemic Insecticide protects Citrus and fruit, vegetables and ornamental 20 ml
It's time for mosquitoes, don't be caught unprepared!
We have selected for you two irreplaceable products for this time of year:
- the Aromatic Geranium Vulcano Aromatic Spirals - pack of 10 spirals
- A silhouette from the SpirHello floor collection
Buy them together in the special Summer KIT.
Zapi Insecticide Plants Cip
Zapi Mosquitoes Barrier Pocket
bayer bayfolan acidophilic 1
Zapi insecticide Anti-mosquito barrier
zapi cockroaches bait insecticide gel
fly strips adhesive strips